Russian Markets Pare Losses as U.S. Bond Sanctions Seen Mild
(Bloomberg) -- Russian markets trimmed losses as investors speculated that the impact of long-awaited U.S. debt sanctions would be milder than feared.
Benchmark ruble bonds pared declines, leaving the yield up the most since September. The White House barred U.S. financial institutions from buying new Russian bonds, a step that potentially leaves the secondary market unaffected. The ruble and stocks also clawed back losses.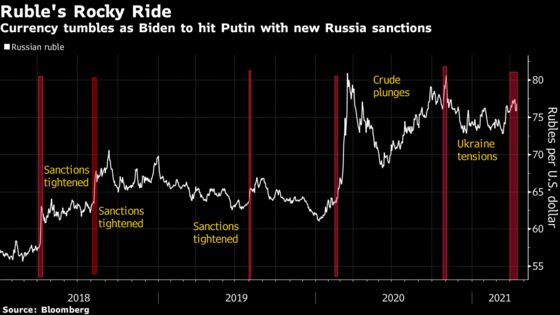 The growing threat of bond sanctions had been weighing on investor confidence in Russia for months and Thursday's announcement came after a massive troop buildup on the border with Ukraine. JPMorgan Chase & Co. cited Russia's spiraling tensions with the West as one of the reasons for cutting its recommendation on emerging-market currencies to underweight.
"Some of the uncertainty has gone," said Dmitry Polevoy, an analyst at Locko-Invest. "Ultimately, it all depends how it's interpreted by the compliance departments of U.S. banks and, more importantly, investors in other jurisdictions."
A senior Russian official, speaking on condition of anonymity to discuss matters that aren't public, called the new debt restrictions the least painful option since they don't affect the secondary market.
Despite a sharp selloff when markets opened in Moscow, the ruble and local bonds are still stronger in the week. Markets rallied after U.S. President Joe Biden proposed a face-to-face meeting in a phone call with Russia's Vladimir Putin on Tuesday.
Russian officials have long said debt curbs won't seriously hurt the government's ability to fund itself as local banks and non-U.S. investors could step in to replace those forced to sell. State lender VTB Bank PJSC bought more than 70% of the local notes on offer in Wednesday's debt sales, which saw a record placement equivalent to almost $3 billion.
Foreigners now hold about a fifth of the so-called OFZ debt, worth roughly $37 billion.
By targeting the primary market for government ruble debt, the U.S. has found "a way to test the waters," said Elina Ribakova, deputy chief economist at the Institute of International Finance in Washington.
"There is a lot of plumbing we do not understand, so even if there is a plan to move to the secondary market, one wants to do so gradually"
Yields on Russia's 10-year ruble bonds were up 13 basis points at 7.17% as of 4:31 p.m. in Moscow, set for the biggest increase since September
The ruble traded 0.9% weaker at 76.5350, paring a drop of as much as 2.1%
Russia's benchmark MOEX stock index retreated 0.7%