U.S. Sanctions Against NATO Ally Turkey Put Ties at Crossroads
(Bloomberg) -- Theirs once was a close political and military relationship, crucial to stopping Soviet expansion during the Cold War.
But today, Turkey's alliance with the U.S. is in crisis over its detention of an American pastor on espionage and terrorism-related charges, and rare U.S. sanctions meant to force it to back down. The measures, and Ankara's vow to retaliate, sent Turkish markets reeling.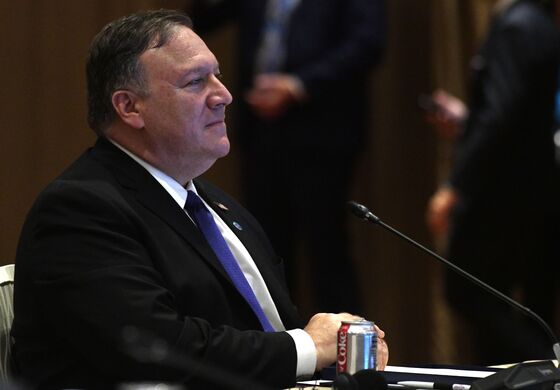 The showdown comes at a fragile moment for the Turkish economy, and Washington may exert more political and economic pressure should relations deteriorate further. Before a meeting in Singapore on Friday with Turkey's foreign minister, Secretary of State Mike Pompeo described the sanctioning of two Turkish ministers as "a demonstration that we're very serious. We consider this one of the many issues that we have with the Turks."
The crisis, long in coming, traces back to 2003 when Ankara started pursuing an increasingly independent foreign policy. Current grievances include Turkish President Recep Tayyip Erdogan's rapprochement with U.S. foes Russia and Iran, and Ankara's conviction the U.S. government is harboring the exiled Turkish cleric it blames for the failed military coup in 2016.
"Unless the Turkish government is prepared to respond favorably to the Trump administration's demands, it is unlikely things will get better, and the political risk facing the Turkish economy will continue to go up," Ghanem Nuseibeh, founder of London-based political risk consultancy Cornerstone Global Associates, said by email. "This will quickly affect ordinary Turks."
Turkey is also dismayed by the U.S. alliance with Kurds in Syria, fearing their growing power in the region could embolden Kurdish separatists at home. Earlier this year, an American court convicted an executive at a state-run Turkish lender for his role in evading the U.S. embargo on Iran, and Washington has threatened sanctions on Turkey if it takes delivery of a Russian missile defense system.
Retired Turkish general Naim Baburoglu sees his country at a crossroads.
"It will either move closer toward Russia and walk into a trap or act in the way the U.S. wants in order to keep its relations with Washington and NATO unharmed," said Baburoglu, now an analyst at Aydin University in Istanbul.
Turkey is unlikely to apologize over the pastor case, given Erdogan's reliance on the support of a nationalist party in parliament and local elections scheduled next year, said an official close to his administration who spoke on condition of anonymity to discuss private conversations.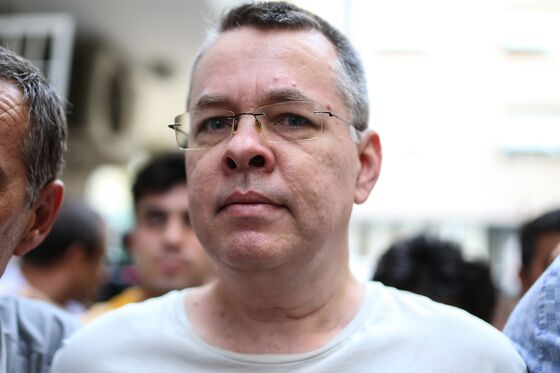 Erdogan accuses the U.S. of trying to meddle in its judicial procedures and rejects suspicions Ankara is holding on to Pastor Andrew Brunson as a bargaining chip to win the extradition of two Turks: Fethullah Gulen, the Pennsylvania-based preacher it accuses of instigating the botched coup, and Mehmet Hakan Atilla, the convicted banking executive.
Turkey has vowed to retaliate against the U.S. penalties in kind. On Thursday, Treasury and Finance Minister Berat Albayrak -- an Erdogan son-in-law -- said his country was looking for "different sources of foreign financing."
The sanctions target Turkey's Minister of Justice Abdulhamit Gul and Minister of Interior Suleyman Soylu, whom the U.S. says played leading roles in the organizations responsible for the detention of Brunson, who was released to house arrest last week after two years in jail. While both ministers said they have no overseas assets, investors were spooked by the showdown.
Timothy Ash, a strategist at BlueBay Asset Management in London, detected a U.S. reluctance to push Turkey too far.
"There were no sanctions on Turkish entities -- no sanctions on Turkish borrowings as per Russian sanctions," Ash said in emailed comments Thursday. "This might reflect an understanding in the U.S. Treasury just how fragile the Turkish economy is at present -- push much harder and the outcome on the economy front could be extreme, with not much going back then in terms of Turkey-U.S. relations."
Common interests have prevented past disputes from escalating into a permanent rupture. Turkey depends on short-term foreign investments from Americans and others who take a lead from Washington. The U.S. is short of dependable allies in the Islamic Middle East, and may not want to push Turkey -- which has NATO's second-biggest army -- too far into Iran's camp.
Ties began souring in 2003, when Turkey refused to let U.S. troops use its soil as a base to depose Saddam Hussein. U.S. officials felt betrayed by an important ally, and many Turks still bitterly remember when U.S. forces in Iraq later that year handcuffed 11 Turkish troops they suspected of plotting to assassinate a top Iraqi Kurdish official and put sacks over their heads.
Erdogan, who took office as prime minister that year, began drawing closer to Turkey's Islamic roots in the Middle East and away from the more European secular state founded a century ago.
"The hope now is moderation prevails, but this move will likely only incense Erdogan and a commensurate response is already promised," Ash said. With U.S. Vice President Mike Pence vowing to pressure Turkey until Brunson is freed, "let's see if Trump, Pence then feel compelled to further respond."