U.S. Prime-Age Women's Labor Participation Is Making Greater Progress
(Bloomberg) -- For the first time since the pandemic, growth in labor force participation among women ages 25 to 54 has eclipsed that of men.
The share of women in their prime working years who are either employed or looking for work rose in December to 75.9%, the highest since March 2020, according to last week's jobs report. That's down 1 percentage point from the pre-pandemic level.
For men ages 25 to 54, it's down 1.2 percentage point from February 2020 after having dropped in December to a seven-month low of 88%. The overall labor force participation rate held at 61.9%, according to the latest Bureau of Labor Statistics data.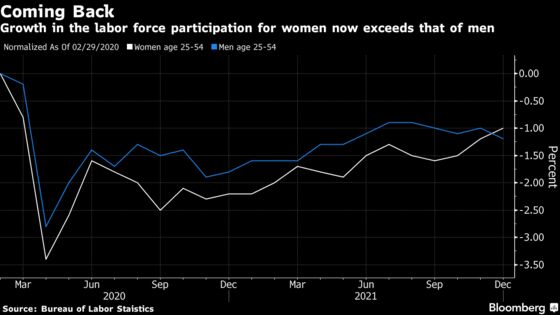 The participation rate for men in their prime working years has declined in three of the last four months after stalling at 88.3% in August. 
For women, the rate initially fell much more sharply in the immediate onset of the pandemic -- dropping from 76.9% early in 2020 to 73.5% in April 2020 as many were forced to leave their jobs to care for children.
Still, 12% of prime-age men are not working while the proportion of women in that situation is twice as large. Fifty years ago, the ratio of men not working or looking for work was close to 1 in 20 while about half of women in this age group were not in the labor market.