U.S. Long-Bond Yield Rises to 4-Year High on Trade Optimism
(Bloomberg) -- The yield on the 30-year Treasury bond surged to a level unseen since July 2014 as optimistic comments by President Donald Trump on the prospects of a trade deal with China spurred selling of safer assets including U.S. debt.
Trump said at the White House that he thinks the U.S. and China will reach a deal to end the ongoing trade dispute and that it would be good for both sides. He is expected to meet with his Chinese counterpart Xi Jinping at this month's Group-of-20 summit in Argentina.
The yield on America's long bond was already up before the president spoke, helped in part by a stronger-than-expected U.S. payrolls report Friday. It extended its advance as Trump's remarks helped buoy investor optimism, with the rate climbing as much as 8 basis points Friday to reach 3.46 percent, eclipsing the previous 2018 high set on Oct. 9.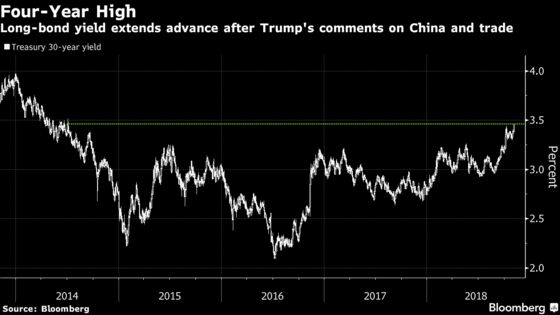 The benchmark 10-year yield climbed as much as 8 basis points to more than 3.21 percent, although it remains below its recent peak of 3.26 percent. Futures volumes spiked, with around 18,000 10-year note futures trading over a one-minute period on the Trump news.