U.S. Kicks in $10 Billion to Spur New School Tests -- for Covid
(Bloomberg) -- In a routine likely to become familiar soon to millions more U.S. public school students, 18-year-old Caitlin Knight lines up in a hallway each Monday and twirls a swab in her nose.
A nurse with a rolling cart collects her sample, drops it into a tube with swabs from several other students, and sends it off for coronavirus testing.
The procedure is voluntary, but most of Knight's peers in the Boston suburb of Medfield opt in. "It's kind of like the vaccine -- it's such a quick painless process, and it makes everyone safer," she said. "Honestly, it's such a small part of my day that I can't imagine why this wouldn't be widespread."
Why isn't school Covid testing more widespread? Money, first and foremost. Medfield school nurse leader Kathleen Thompson estimates that if the state hadn't been paying for the town's student testing, it would have run the district $10,000 a week.
President Joe Biden's administration is transforming that money outlook now with a commitment of $10 billion to school-based testing around the country, leading to ramped-up efforts expected to last well into the 2021-2022 school year.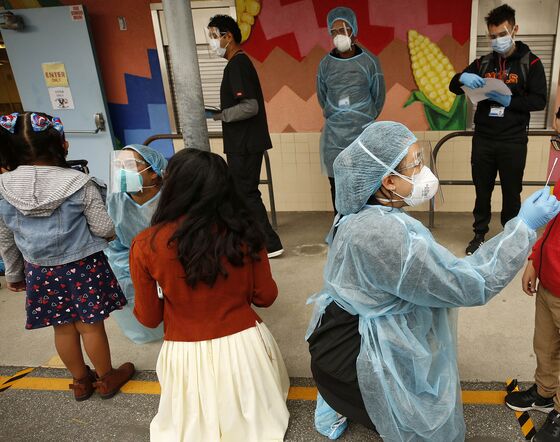 "We can't vaccinate the kids yet," said U.S. Representative Jake Auchincloss, a Massachusetts Democrat who supports pooled school testing, which saves money by combining multiple students' samples into one test. "I would say that pooled coronavirus testing is not going anywhere for at least a year."
As more students return to in-person schooling and mask-wearing fades -- the U.S. Centers for Disease Control and Prevention on Tuesday greenlit the doffing of them in most outdoor public settings for vaccinated people -- routine testing is becoming a new schoolhouse ritual, aimed at helping them reopen and stay open.
Massachusetts has been at the forefront of school Covid-19 testing for months, its efforts buoyed by a statewide program that funds pooled and rapid testing wherever local officials support it. At latest state count, 1,044 of roughly 1,800 schools statewide offer such testing.
"The safest thing to do is to test everyone, children and adults, before they start school and regularly thereafter," Los Angeles Superintendent Austin Beutner said Monday as the last of the city's closed schools began reopening.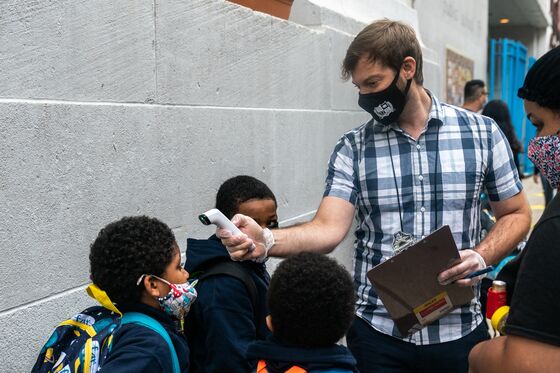 Skeptics protest that coronavirus rates among asymptomatic students tend to be so low that the tests don't justify their expense and are too likely to trigger "false positive" results. In Illinois, some parents complain that testing is disrupting education by forcing too many students into quarantine.
In many cases, though, districts never started.
"We are not doing student testing in any of our schools," said Mark Thomas, a spokesman for the Birdville Independent School District just north of Fort Worth, Texas. "That was a district decision. We have so many resources available for testing that it's pretty readily available across our area here."
By contrast, New York City schools have been testing 20% of in-person staff and students each week since December, turning up a positive rate well below 1%.
Beutner boasts that Los Angeles's unified school district, which requires testing for return to school, is "doing something no other school district in the nation of our size has attempted -- trying to stop the spread of the virus before it gets to school." In the last three weeks, the district has been testing as many as 30,000 people a day, he said, with just 301 positives.
In the Boston suburb of Wellesley, which has been running weekly school screening since October as part of an early-adopter collaborative, about 1 in 1,000 tests comes back positive, said Jesse Boehm, a cancer biologist and father of Wellesley schoolchildren, who is involved in the effort.
Though case numbers are low, the testing did catch and stem a high school outbreak, and has significantly reduced anxiety, Boehm said: "We found the value was in providing reassurance -- especially for teachers but also for families -- that there were as few cases in public schools as possible."
Based on recent talks with testing advocates and suppliers from around the country, Boehm estimates that in the coming months perhaps 20% to 40% of school districts nationwide will dive into testing that requires sending samples to labs for processing; additional districts may opt for rapid tests.
Whether in testing-enthusiastic Massachusetts or elsewhere, reluctance to participate remains one of the greatest obstacles, said David Rubin, director of the Policy Lab at Children's Hospital of Philadelphia.
Private schools and colleges can require testing and so can public-school extracurricular activities, he said. But his recent experience working on school testing in Pennsylvania brought home how very local the decisions are: made by school boards and boards of health, caught in complex politics that may make one town a testing model while a neighboring one is unable to get testing off the ground.
"I've seen the school district of Philadelphia, with all its challenges, become the gold standard for testing," he said of the heavily urban district. "There's no obvious pattern there."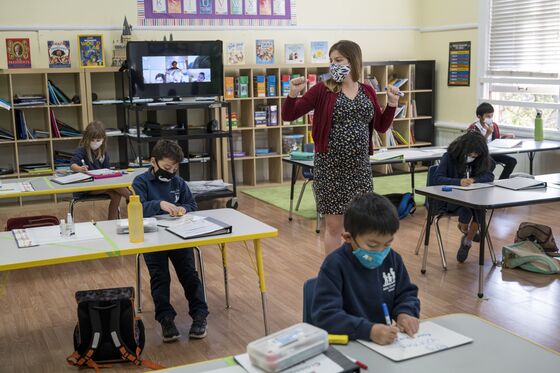 Federal money and logistical support can help, he said, but cannot solve the "fragmented approach" that stems from local control. Money "has been one of the barriers, but it's not the only barrier."
And the federal money is arriving at a time of declining interest in testing because so many adults have been vaccinated, Rubin added. "It's always good to have more resources to do school-based health," he said, but the government may need a more strategic approach -- perhaps focused less on spreading the money around broadly and more on urban districts that continue to struggle to reopen, or sentinel schools that watch for emerging viruses.
The level of interest is also a concern for some of the almost two dozen vendors of testing services, like Ginkgo Bioworks, a Boston-based biotech company. It's working with roughly 1,000 schools in 18 states, it says, but could support testing for millions more students.
Creative director Christina Agapakis said testing demand is lower than she thinks it should be: "That's something that has been sort of disheartening and disappointing."
Another Massachusetts-based testing vendor, CIC Health, predicts rising demand. "The testing in schools is much easier than it once was, much faster than it once was," said Tim Rowe, CIC's chief executive officer. "And it could be an important tool to help convince families across the country who are reluctant to send their kids back to school to do so."
As Bill Jacobson, CIC's school testing leader, points out, if large-scale testing had been in place when the pandemic hit, "Maybe our schools wouldn't have had to close."