Mexico's Ex-Defense Minister Must Stay in Jail in Drug Case
(Bloomberg) -- Former Mexican defense minister Salvador Cienfuegos must remain in U.S. custody as he awaits trial in New York on charges that he helped a notorious drug cartel while he was the head of his country's military.
U.S. Magistrate Judge Alexander MacKinnon on Tuesday rejected a request from his lawyer Duane Lyons to get Cienfuegos, 72, released on $750,000 bail, calling him a flight risk.
"The defendant has substantial ties in a foreign country, namely Mexico," MacKinnon said at a hearing in federal court in Los Angeles on Tuesday afternoon. "He was a senior government official in Mexico for a number of years and I think it's a reasonable inference for someone who's lived in Mexico for his entire life could flee and avoid prosecution."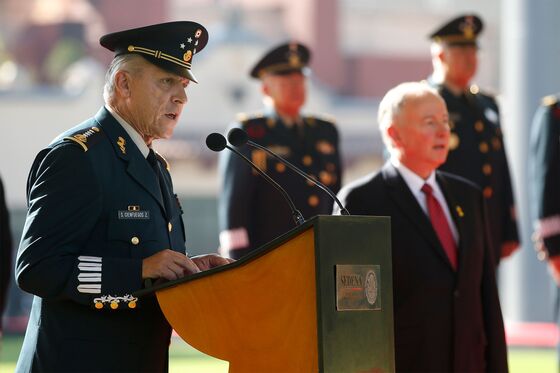 Cienfuegos, who served as defense minister under former President Enrique Pena Nieto, was arrested last week in Los Angeles on charges that he aided the H-2 drug cartel by targeting its rivals for military action and warning it of U.S. investigations, among other acts.
Arguing that Cienfuegos' age put him at greater risk of contracting Covid-19 if he remained federal custody, Lyons had asked that his client be allowed to remain free on bail while he awaits a federal trial in Brooklyn, New York.
But MacKinnon noted the Mexican general's lack of ties to the U.S. and said he would be highly motivated to flee because of the seriousness of the charges against him. "He's in his seventies and and it wouldn't take a long sentence to be a life term," the magistrate said.
Prosecutors opposed bail for Cienfuegos, saying he could flee to Mexico where the H-2 Cartel as well as former Mexican government officials could help him evade authorities.