Treasury Yields Climb on Supply Surge, Sliding Unemployment
(Bloomberg) -- A stronger-than-anticipated August payrolls report weighed on Treasuries ahead of the U.S. Labor Day holiday weekend, driving yields higher at the long end of the curve even as stocks fell.
The biggest surprise was the steep drop in the unemployment rate, which fell by almost 2 percentage points, to 8.4%. The jobs gain of 1.37 million also exceeded economists' forecasts. The data including the hiring of 238,000 temporary census workers, according to the Labor Department's data report Friday.
Treasuries weakened on the release, and the move gathered momentum heading into the U.S. afternoon, taking the 10-year yield up 7 basis points to 0.71% as markets thinned out. Another heavy round of supply after the Monday break was also on traders' minds, with some raising concerns that this latest sign of labor-market repair might discourage the Federal Reserve from scooping up more Treasuries.
The payrolls report "may take the Fed out of the market in the short term," said Michael Franzese, a trader at MCAP LLC.
With the "best buyer in the world" maybe stepping back, he said, "what are you supposed to buy?"
The U.S. government auctions $108 billion of debt next week across three-, 10- and 30-year maturities, and a surge in new corporate bonds is expected if the stock market stabilizes. Investors are also looking to the Fed for further guidance on how long rates will remain near zero, and a possible commitment to more long-dated asset purchases, at its Sept. 15-16 meeting.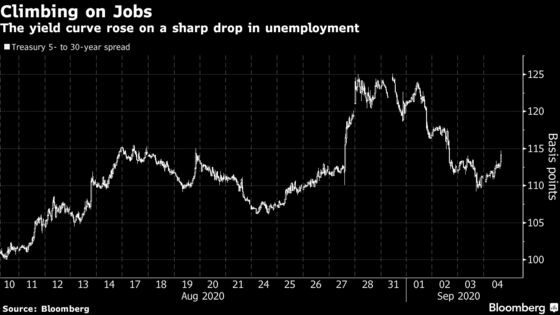 Investors have been squaring positions before heading out for the U.S. holiday, said Subadra Rajappa, head of U.S. rates strategy at Societe Generale. She is looking for further weakness at the long end of the Treasury market to drive the curve higher, due in part to supply outweighing Fed purchases.
"With the employment report out of the way we are seeing a resumption of the steepening," she said.
The gap between five- and 30-year yields pushed wider in the wake of the jobs data, to 117 basis points.