U.S. Income Gaps Narrowed Before Covid Hit, Fed Survey Shows
(Bloomberg) -- Wealth and income inequality stopped widening in the years before the pandemic struck as earnings rose for most Americans, according to a new Federal Reserve report.
Median family income rose 5% in the three years through 2019, to $58,600, the Fed's latest Survey of Consumer Finances shows. Gains were especially strong for groups that had largely been left out of the post-2008 rebound, including Black Americans, those younger than 35, and those without college degrees.
"These changes are consistent with a slight narrowing of the income distribution over this period," the Fed said in a summary of the report's findings.
Most households outside of the wealthiest 20% saw increases in their wealth during the period, too. Median net worth rose 18% over the three years to $121,700, and the poorest 40% of households saw their wealth increase at roughly double that pace. The top 20% of earners saw their wealth decline by close to 10%.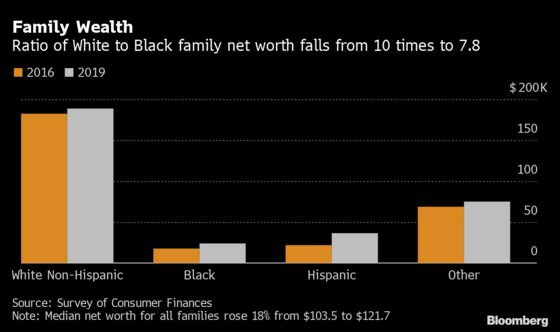 For lower-income households in particular, wealth gains were driven by rising home prices.
Median house values rose 19% for the lowest-earning Americans, outpacing the 13% overall gain, and the bottom half of earners saw the first increase in homeownership since 2007. There was also a small rise in the share of families that own stocks, to 53% from almost 52%, driven by lower-income households.
Still, Fed economists said on a conference call that the overall pattern of wealth inequality was little changed, remaining near the highest levels in decades. They also said they had not teased out what impact the 2017 tax cut pushed through by President Donald Trump may have had on the distribution of wealth and income.
Black American families typically held about one-eighth the wealth of White households in 2019, 60 cents for every dollar earned by White families. Or "40% less than White families. The gap is driven by a snowballing effect of inheritance and stronger support networks, the Fed said. Almost 30% of White families reported receiving an inheritance in 2019, compared with 10% of Black families and 7% of Latinos. Nearly three-quarters of White families said they could get $3,000 from family or friends, compared to 40% of Black families.
The Fed's survey covers the last phase of a decade-long expansion that drove unemployment to a half-century low, brought marginalized workers back into the labor force, and raised wages across the board. Americans with a high school diploma or less, who have historically failed to keep pace with more educated workers, saw the largest earnings increase between 2016 and 2019.
But those gains have all gone into reverse this year as millions of jobs disappeared during lockdowns -- and low-income workers, Americans of color and women were hit especially hard.
Emergency savings, which can help families cope with sudden loss of employment or other hardships, were lowest for Black and Latino Americans, according to the Fed study. White families had $8,100 in emergency funds, compared to $1,500 for Black families and $2,000 for Latinos.