U.S. Home-Price Appreciation Is Cooling Off Ever So Slightly
(Bloomberg) -- U.S. home prices jumped 19.8% in August, the latest in a string of massive gains in the pandemic real estate market.
But after more than a year of a hot market, there are slight signs of a cooldown. 
The gain in the S&P CoreLogic Case-Shiller index of property values nationwide matched the jump in the prior month, according to a statement on Tuesday. That came after 14 straight months of accelerating price increases.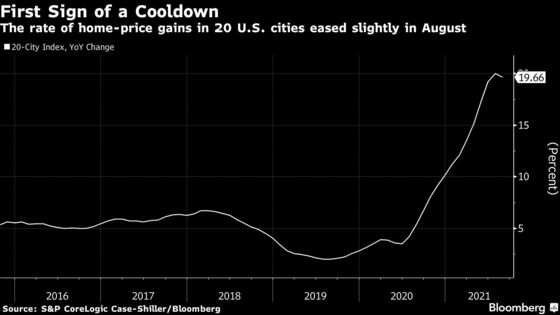 The index that tracks prices in 20 U.S. cities, meanwhile, posted a 19.7% year-over-year gain, down from 20% the prior month. That ended a streak of 13 straight months of increases.
The torrid pace of price gains has eased slightly after the pandemic ignited a buying frenzy for a tight supply of homes for sale across the U.S. More owners are listing their properties now, and buyers are starting to resist getting dragged into bidding wars.
Phoenix led cities for a 27th consecutive month, with a 33.3% gain from a year earlier. San Diego followed, with 26.2%. Prices in Tampa, Florida, jumped 25.9%, taking the third spot.