U.S. Home-Price Appreciation Cooled Off Slightly in September
(Bloomberg) -- The growth in U.S. home prices slowed down just a bit in September.
A measure of home prices in 20 U.S. cities jumped 19.1%, down from 19.6% in August and the second straight slowdown, the S&P CoreLogic Case-Shiller index showed Tuesday. Nationwide, prices climbed 19.5%, which was also down from a month earlier.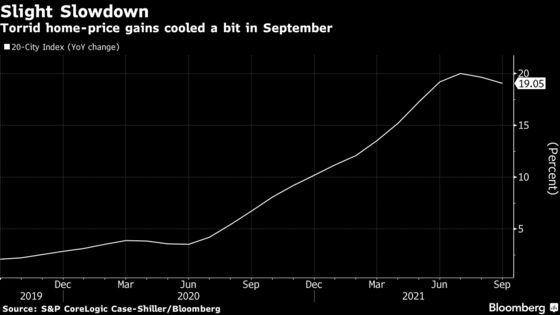 While values are still soaring, the cooldown comes more than a year after the pandemic sparked fierce competition for a tight supply of listings across the country. Fewer families generally shop for homes after the start of the school year, and September's jump in mortgage rates curbed buyers' ability to bid up prices.
More owners are expected to list their properties for sale in the coming months, which would help ease the inventory shortage. But demand remains intense, signaling that meaningful relief from price gains may be a ways off.
A measure of contracts to buy previously owned U.S. homes jumped to a 10-month high in October, the National Association of Realtors reported Monday. Completed purchases are on track to exceed 6 million in 2021, the most in 15 years, the group said. 
Prices in Phoenix surged 33% from a year earlier in September, according to the index. Following were Tampa, with a 28% jump, and Miami, with 25%.