U.S. High Yield Has 'Way Too Much Room' to Slide for Brandywine
(Bloomberg) -- Big moves in both government bonds and credit have scope to keep going in the view of Philadelphia fund manager Brandywine Global Investment Management LLC.
"There are too many unknowns" about the virus, Tracy Chen, a portfolio manager and head of structured credit at Brandywine, said on Bloomberg TV. Even after U.S. high yield premiums soared, "we still think there is way too much room to go. So we want to short" junk credit, she said.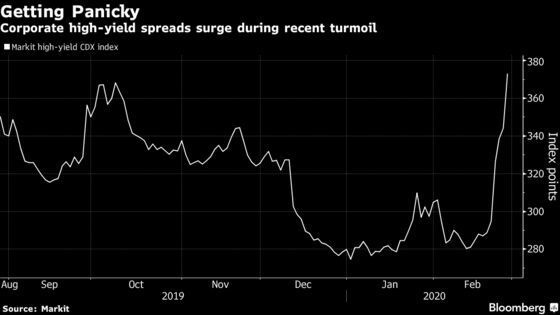 Junk bonds were hit with the biggest week of outflows since 2018 in the week through Feb. 26, according to Refinitiv Lipper data. Investors have instead been flocking to the safety of government debt.
"We like safe-haven duration like Treasuries," Chen said. "This V-shaped recovery that investors had been looking for is not there yet," she said. "The resumption rate of all kinds of output and work-related activity is still very, very low right now. So the recovery will be very gradual. We are only just starting to look at the leveling out of new cases."