This Map Shows the Widespread Impact of the U.S. Government Shutdown
(Bloomberg) -- If you think the federal government shutdown impacts only the Washington, D.C., area, you may not have to stroll far from your neighborhood to see the size and scope of federal government footprint.
While the D.C. metro area tops the nation in GSA-leased square footage with over 50 million square feet of leased office and warehouse space the GSA inventory extends to over 700 metro locations across the U.S. and its territories.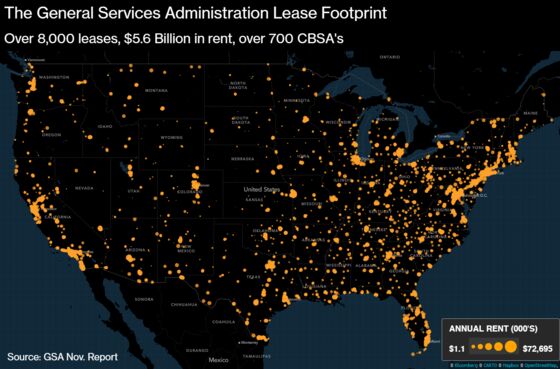 The General Services Administration (GSA) is the largest public real estate organization in the U.S., providing work space to over 1.2 million federal workers, according to its website.
Kansas City, home to the Internal Revenue Service, ranks third in the nation in rent received from the GSA. The New York metro area ranks second with Atlanta and Philadelphia rounding out the top 5.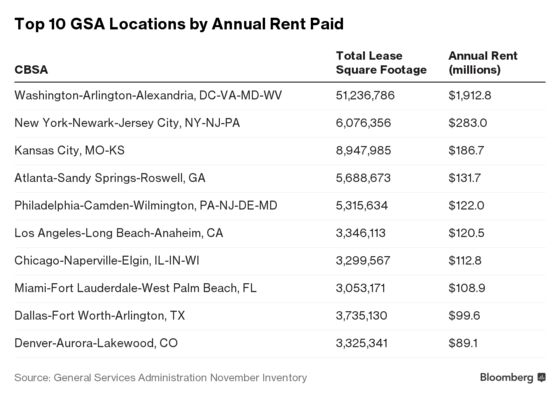 The GSA currently has 23 lease prospectuses listed on its website for upcoming leases in 2019 for agencies like the Dept. of Justice, Dept. of State and the Dept. of Defense.
Note: The U.S. Census defines a Core Based Statistical Area (CBSAs) as an area which consists of the county or counties or equivalent entities associated with at least one core (urbanized area or urban cluster) of at least 10,000 population, plus adjacent counties having a high degree of social and economic integration with the core as measured through commuting ties with the counties associated with the core.