Here's One Way Racial Inequality Is Declining
(Bloomberg Opinion) -- President Donald Trump isn't the president one would expect to narrow the disparities between black and white Americans. Yet under his watch, that's just what is happening in the labor market.
Blacks in America face a litany of barriers to gainful employment. They're more likely to grow up in neighborhoods where good health care, education and opportunities are scarce. When they apply for work, they're less likely to get called back and hired. As a result, the employed share of black adults tends to be much lower than that of whites.
Economic growth can't erase systematic ills and prejudices. But it can help offset them, at least temporarily. And that seems to be what's occurring, as persistent hiring drives the unemployment rate down to levels not seen in almost two decades -- and the challenge of finding workers makes prospective employers willing to consider a broader range of candidates.
In the three months through July, the employment-to-population ratio for black Americans averaged 58.3 percent. That's just 2.3 percentage points lower than for whites -- the smallest gap on records going back to 1972. Here's how that looks: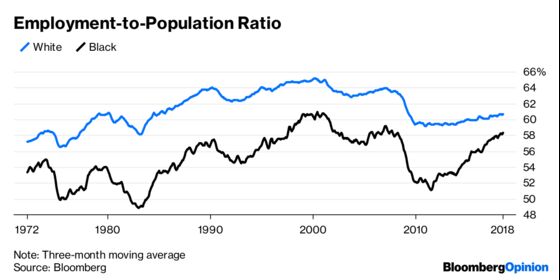 Granted, the comparison might be skewed by the largely white baby-boomer generation, which is heading into its retirement years. That said, the picture looks pretty similar for people in the prime working years of 25 to 54: In the three months through July, the gap between the black and white employment-to-population rates averaged 4.3 percentage points, the smallest since 1979.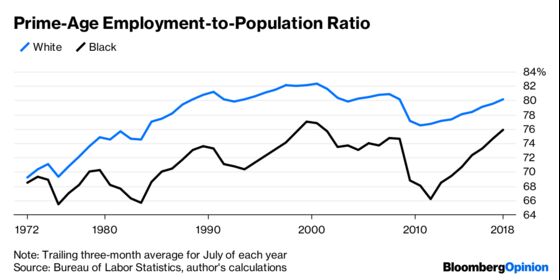 Why is this happening, and who deserves credit? To some extent, it's just a function of the economic cycle: Black Americans tend to be the last to benefit in expansions, and to suffer the most in recessions. That said, policy has made a difference. The Obama administration's fiscal stimulus prevented things from getting worse back in 2009 (though Congress limited and even undermined it). The Federal Reserve's extraordinary monetary stimulus -- including seven years of near-zero interest rates -- helped spur hiring (though some argue that the Fed should have been more aggressive).
Trump has probably played a role, too. The package of corporate tax cuts he signed into law in December amounts to another fiscal stimulus. It's ill-timed, given that the economy is already running near capacity, and it will boost the national debt when the government should be doing the opposite. But it might also be providing the impetus needed to employ people who otherwise would have remained on the sidelines.
So whether or not he meant to, Trump might be helping blacks catch up to whites -- at least until the next recession.
This column does not necessarily reflect the opinion of the editorial board or Bloomberg LP and its owners.
Mark Whitehouse writes editorials on global economics and finance for Bloomberg Opinion. He covered economics for the Wall Street Journal and served as deputy bureau chief in London. He was founding managing editor of Vedomosti, a Russian-language business daily.