U.S. Elections May Reignite China Trade Risk in Developing World
(Bloomberg) -- The U.S. presidential election may bring U.S.-China relations back to the forefront for investors in the developing world.
While the global pandemic replaced simmering U.S.-China tensions as a key driver for emerging-market assets this year, concern is mounting that the election will re-ignite the trade war and spook the already skittish appetite for risky assets.
"It's very, very hard to be defensive on that front," said Sacha Tihanyi, deputy head of emerging markets strategy at TD Securities in Toronto. "Relative value in emerging markets is better than outright positions versus the dollar."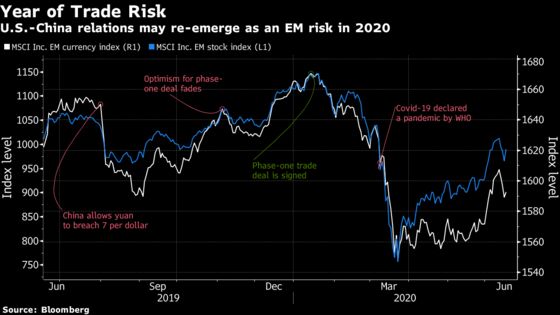 The potential for renewed tensions is high if a V-shaped global recovery fails to materialize, said Larry Brainard, chief emerging-market economist at TS Lombard in London.
President Donald Trump "appears increasingly desperate to find a convincing campaign narrative," according to Brainard. "We think a new escalation of U.S.-China tension is highly likely before the November election."
While the phase-one deal struck in January is still holding up, other risks are building. China is waiting to see if Washington will impose sanctions for its crackdown on Hong Kong, and Trump accused the No. 2 economy earlier this year of responding slowly to the virus as a ploy to harm his re-election chances.
Still, Chinese officials are warming to another four years of Trump amid a belief that the benefit of the erosion of America's postwar alliance network would outweigh any damage to China from continued trade disputes and geopolitical instability.
MSCI Inc.'s gauges of stocks and currencies were whiplashed throughout 2019 by news over trade tensions. The question is whether recent optimism over reopening economies and recovering global growth can outweigh a resumption of U.S.-China skirmishes.
These could start impacting emerging credit markets as early as July or August, especially as the pandemic-fueled recession and social unrest stoke uncertainty, according Citigroup Global Markets Inc. strategists including Eric Ollom, Donato Guarino and Ayoti Mittra.
In stocks, a deepening "technology war" may also come to the forefront, said John Malloy, Miami-based co-head of emerging and frontier markets at RWC Partners, which oversees $7 billion in emerging and frontier assets. He's avoiding Chinese state-owned enterprises and other stocks, especially in the technology industry, that could be targeted based on sanctions, he said.