U.S. Debt-Ceiling Agita Is Messing With Shortest-Maturity Debt
(Bloomberg) -- Investors are beginning to demand more yield to hold the U.S. government's shortest-maturity debt, perceived to be at risk of delayed repayment if the debt ceiling isn't suspended in the next several weeks. 
The Treasury Department on Thursday sold $20 billion of four-week bills at 0.06%. That's 3.5 basis points higher than the previous week's result and the highest award rate since January. It also sold $30 billion of eight-week bills at 0.065%.
Treasury Secretary Janet Yellen on Wednesday renewed her call for Congress to boost or suspend the debt ceiling and warned that without such measures the department will probably reach the federal borrowing limit sometime in October. Should that happen, some securities due to be repaid around that date could technically default if new debt can't be sold to refund them, a possibility that's showing up in the form of slightly higher yields for the most at-risk bills.  
"Both maturities are in a grey area for debt ceiling risk as there remains a wide range of opinions on what the 'drop-dead' date actually is," Jefferies economist Thomas Simons wrote in a note to clients.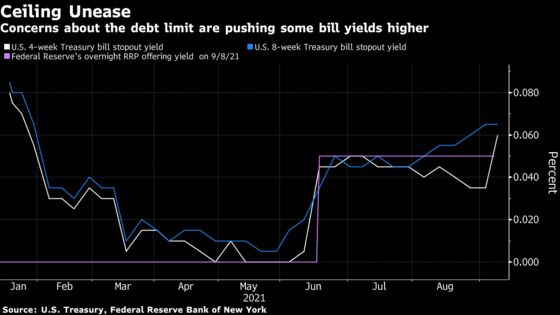 Debt-ceiling dysfunction is exacerbating distortions in the front end, where yields have been depressed by the abundance of cash chasing a shrinking pool of assets. The Federal Reserve's long-standing asset purchases and drawdowns of the Treasury's cash account have added reserves into the system, while bill supply has been cut to create more borrowing room under the debt ceiling. 
The Treasury on Thursday reduced the size of its weekly three- and six-month bill auctions by $3 billion each to $48 billion and $45 billion. After next week's bill auctions settle, paydowns will total more than $1 trillion for the year.