U.S. Customer Satisfaction Index Hits Second-Highest Level
(Bloomberg) -- U.S. customer satisfaction rose to the second highest level in the 25-year history of the survey during the 2nd quarter, according to the American Customer Satisfaction Index. High levels of customer satisfaction can give consumer spending a boost, which should produce higher GDP growth, according to the report.
"Robust customer satisfaction is associated with upward shifts in demand," said Claes Fornell, ACSI founder and chairman.
Among industries, breweries and credit unions scored near the top of the survey while telephone companies were at the bottom. Subscription telephone service and Internet service providers tied for the lowest customer satisfaction ratings.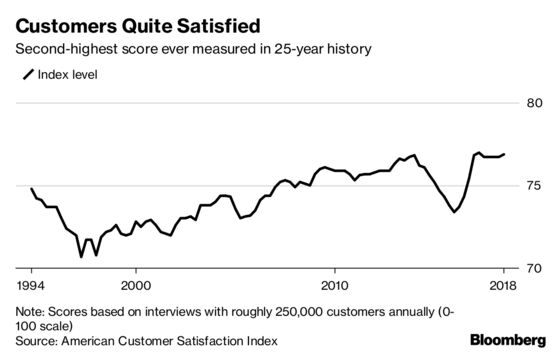 The national ACSI score is based on a survey of the average American consumer's satisfaction across more than 380 companies in 46 industries and 10 economic sectors and industries over a 12-month period.