Citi Warns U.S. Credit Locked in a Losing 'Internecine' Battle
(Bloomberg) -- Citigroup Inc. is warning the heart of the U.S. corporate bond market looks braced for its biggest test since the crisis as a backlash over leverage fuels an "internecine battle" that harms borrowers and lenders alike.
High-grade non-financial companies have seen their total debt burdens rise 10 percent year-on-year since 2010 -- double the 5 percent growth rate of their earnings. The backdrop for Corporate America's debt now looks "foreboding" as foreign investors beat a retreat, according to Citi.
"A narrative of vulnerability will pervade the U.S. corporate bond market in 2019 as an array of mighty U.S. non-financial companies take their turn in the barrel, after spins by financials (2009-12) and energy and metals (2015-16)," Daniel Sorid, the bank's head of U.S. investment-grade credit strategy, wrote in a recent note.
An early warning sign is the raging conflict between how the two biggest agencies rate the health of corporate balance-sheets -- with bearish judgments prevailing.
Right now, Moody's Investors Service and S&P Global Ratings disagree by at least two notches on as much as 15 percent of credits, Citi estimates. Over the past 12 months, those disagreements have increasingly been resolved by the higher rating being cut, indicating that agencies are "tending toward bearish over bullish consensus."
Historically, this trend has preceded spikes on premiums for high-grade debt, according to Sorid.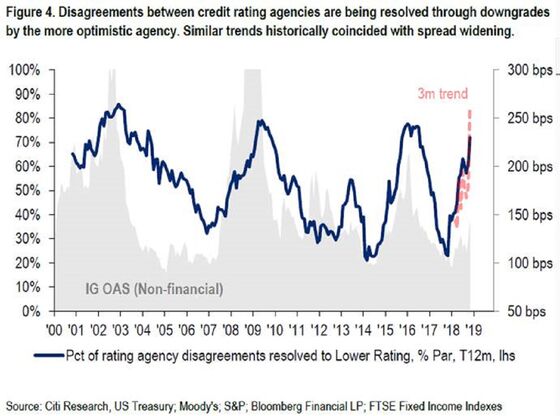 U.S. high-grade debt is facing its worst year since 2008 in terms of total returns, spurred by rising interest rates and concern over the post-crisis borrowing binge at a host of American blue chip businesses, with General Electric Co.'s woes the most prominent.
With a large chunk of the market now concentrated in the BBB bucket, or one- to three-notches above what's considered speculative-grade, the risk is that investors will be quick to punish mispriced debts as the business cycle matures.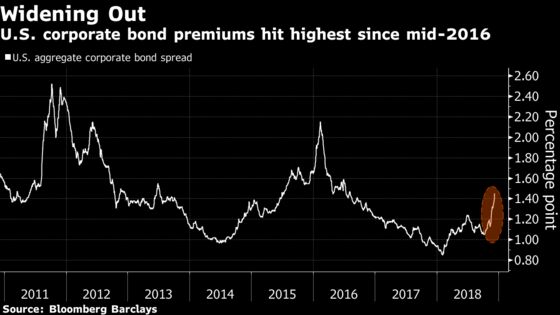 "An environment in which one single-A credit can be carted out into single-B spread territory almost overnight is perilous to ratings-constrained institutional investors, particularly in Asia, that have chased the yields of blue-chip U.S. debt into the low-A/mid-BBB territory," Sorid wrote.
Citi recommends investors snap up cheaper credits of issuers that are reducing debts amid the 2019 turning point.
"While not quite a law of nature, the IG market is generally downgraded over time, and conditions are ripe for ratings of U.S. non-commodity industrials to undergo their biggest test of the post-crisis period as the ratings agencies play catch-up and global investors seek alternatives in Europe and at home."