U.S. Consumer Sentiment Falls to Two-Year Low Amid Shutdown
(Bloomberg) -- U.S. consumer sentiment tumbled to the lowest since October 2016 and future expectations dimmed, the latest evidence that the government shutdown is weighing on Americans' outlook.
The University of Michigan's preliminary January sentiment index fell to 90.7 from the prior month, missing all estimates in a Bloomberg survey of economists, according to a report Friday. The measures of current conditions and expectations both declined to the lowest since President Donald Trump's election in 2016.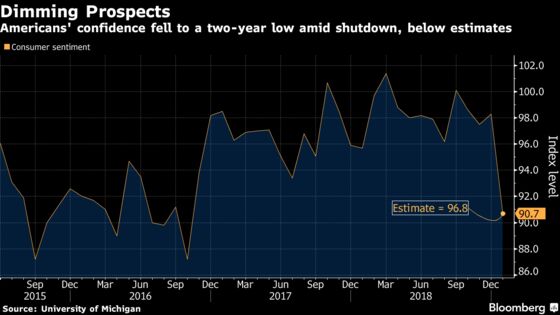 The sharp decline amid the shutdown and trade war signals the negative impact that the souring outlook on the economy is having on consumers, whose spending makes up the largest part of the economy. It's a troubling sign for future spending, adding to other indications of weakening consumer and business confidence just as growth is forecast to decelerate in 2019.
Consumers anticipate price gains to remain steady. Inflation expectations for the year ahead were unchanged at 2.7 percent, while the inflation rate over the next five to 10 years was seen at 2.6 percent, up from 2.5 percent in the prior survey.
"The decline was primarily focused on prospects for the domestic economy," Richard Curtin, director of the University of Michigan consumer survey, said in a statement. "The loss was due to a host of issues including the partial government shutdown, the impact of tariffs, instabilities in financial markets, the global slowdown, and the lack of clarity about monetary policies."
The main confidence measure rebounded after the last lengthy government shutdown ended in late 2013.
Consumers saw recent news as the least favorable about the economy since late 2011, and negative references to government policy were cited nearly four times as much as positive mentions, according to the report.
What Our Economists Say...
Confidence will rebound should the White House and lawmakers find a quick resolution to the current impasse. However, a prolonged shutdown, or more stock market volatility, would likely unsettle consumers even as conditions in the labor-market remain tight and the economy continues to grow above trend.

-- Yelena Shulyatyeva, Tim Mahedy and Carl Riccadonna, Bloomberg Economics

Read more for the full reaction note.
A gauge of views on current personal finances fell to the lowest in a year, while the expectations index edged up.
A measure of buying conditions for long-lasting goods fell to the weakest level since August.
Interviews for the preliminary report were conducted Jan. 2- 16.