U.S. Consumer Confidence Rose to Three-Month-High in February
(Bloomberg) -- U.S. consumer confidence rose in February to a three-month-high as Americans grew more upbeat about the current labor market and economy's progress.
The Conference Board's index of sentiment increased to 91.3 from a revised 88.9 reading in January, according to a report on Tuesday. The median forecast in a Bloomberg survey of economists called for the measure to rise to 90.
The gauge of sentiment about current conditions rose to 92 from 85.5 in January, while a measure of expectations fell.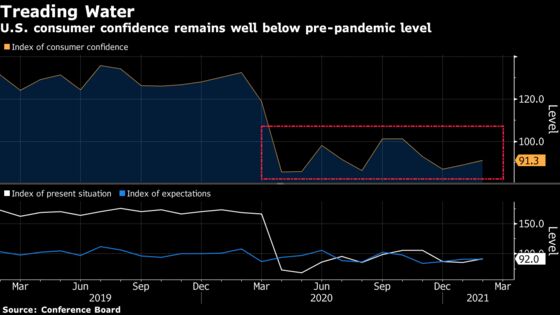 The improvement in sentiment comes as Democrats in Congress race to pass a $1.9 trillion economic stimulus package, which includes additional aid checks and expanded unemployment benefits. Vaccine distributions continue to ramp up with over 40 million Americans having received at least one dose. At the same time, confidence remains well below pre-pandemic levels.
"Consumers remain cautiously optimistic, on the whole, about the outlook for the coming months," Lynn Franco, senior director of economic indicators at the Conference Board, said in a statement.
The share of survey respondents who said that jobs were plentiful rose to a three-month-high of 21.9%, while fewer respondents said jobs were hard to get.
Still, respondents indicated they are less likely to make big purchases in the months ahead. The share of people expecting to buy major appliances, a home or cars fell.
Consumer expectations remain muted, with fewer people expecting more jobs, better business conditions and increased incomes over the coming months.
Respondents also expect prices to pick up in the coming year. The Conference Board's data showed consumers expect inflation to rise to 6.3%, the highest since June.