Record U.S. Soy Crop, Bulging Reserves Point to Inflation Relief
(Bloomberg) -- The U.S. lifted its estimates for corn and soybeans reserves on Tuesday, in a sign that relief from higher food prices could be on the way.
American farmers have been struggling with extreme weather, including pockets of drought and flooding in key growing areas this season. Yet plants have proved resilient, and it looks to be a year for bumper production.
The U.S. soybean crop will be record large this year, according to a government report Tuesday, while U.S. corn output will be the second-largest ever. Stockpiles at the end of the season are also building up more than than expected, with soybean reserves at 320 million bushels and corn at 1.5 billion bushels.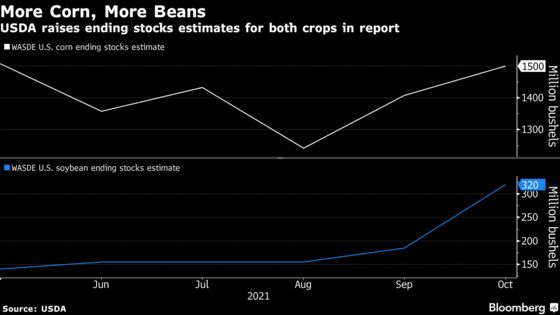 Bigger crops are welcome news for consumers, who have been contending with higher grocery billls. Global food prices recently touched a decade high, according to a United Nations gauge. U.S. consumer price index data due Wednesday is expected to show cost pressures remained elevated last month.
The supply-and-demand report, known as WASDE, underscored what state accounts and word of mouth have hinted at for weeks: bigger crop yields.
"We are going to see less urgency in buying" on both futures exchanges and in cash markets, AgriVisor LLC commodity risk analyst Karl Setzer said in an email. 
Read more: U.S. Soybean, Corn Production Raised: WASDE Takeaways
Futures prices for both crops plunged after the report. Soybeans in Chicago fell as much as 2.5% to $11.98 a bushel, a 9-month low. Corn dropped as much as 2.1% to $5.22 a bushel. It could fall below $5, a key psychological level, said ED&F Man Capital Markets Inc. analyst Charlie Sernatinger.
Other bearish events have helped bring crop prices down by about a quarter since reaching multiyear peaks in May. Hurricane damaged to ports in the Gulf of Mexico and a crane accident on the West Coast stoked concerns that the pace of American exports could slow, with supplies potentially getting backed up.
One obstacle to inflation relief could be wheat prices, which rose after the report due to smaller-than-expected world supplies. While corn and soybean crops are mainly fed to animals raised for meat, wheat is directly consumed in a variety of foods.
"The main takeaway from the entire report is a bearish tone, with the lone exception of wheat, where the balance sheet in the U.S. is tightening to levels not seen since the 2007-08 drought period," Sal Gilbertie, chief executive officer of Teucrium Trading LLC, said in an email. "The global balance sheet is the tightest in five years, all due to healthy global demand for wheat and climate-related supply disruptions."
Wheat rose as much as 1.6% to $7.4375 a bushel.