U.S. Budget Gap Quintupled in January on Pandemic Aid Spending
(Bloomberg) -- The U.S. federal budget deficit widened in January to about five times the year-earlier level, reflecting spending on pandemic relief payments approved by Congress during the prior month.
The gap increased to $162.8 billion last month, from $32.6 billion in January 2020, according to a Treasury Department report Wednesday. In the first four months of the fiscal year that began in October, the deficit amounted to $735.7 billion -- a record for the period -- compared with $389.2 billion a year earlier, before the coronavirus struck.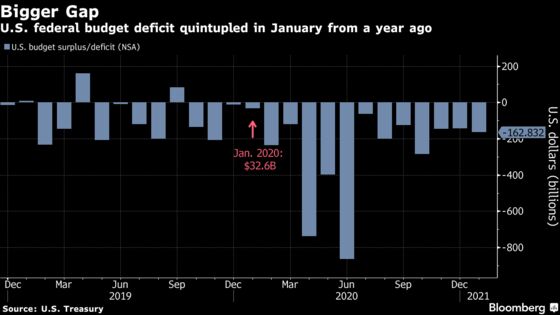 The report, the first to include the effects of the $900 billion Covid-19 aid package approved in late December, underscores the extent of federal aid deployed to combat the recession.
At the same time, the government's interest payments on debt have actually shrunk during the current fiscal year due to the plunge in borrowing costs. President Joe Biden has highlighted that point as he and Democrats work to push through an additional $1.9 trillion in stimulus aimed at consumer and business relief as the pandemic drags.
Spending in January jumped 35.2% while revenue increased just 3.3% from a year ago, with outlays driven by government support including $600 stimulus payments for Americans.
The budget deficit this year may exceed the 2020 gap of about $3.1 trillion if Biden's latest fiscal package is passed, according to the Committee for a Responsible Federal Budget. That would also be the largest burden, relative to the size of the economy, since the World War II era.