Goldman Sachs Wins With Fed's Unexpected Buyback Clearance
(Bloomberg) -- Big-bank stocks surged on Monday after lenders including Goldman Sachs Group Inc. and JPMorgan Chase & Co. said they'll take up the Federal Reserve on its surprise decision letting them resume stock buybacks. Goldman and Morgan Stanley were viewed as top winners on the heels of their trading profits.
Analysts had expected the central bank would keep a pandemic-induced halt on buybacks. Goldman led gainers in the S&P 500, rising 6.1% to close at the the highest since April 2018, while the broader index shed 0.4% amid coronavirus concerns. Morgan Stanley was right behind Goldman among the top 10 on the S&P, gaining 5.7% to the highest since 2007, while JPMorgan, Citigroup Inc., Bank of America Corp., and Capital One Financial Corp. were also among leading index gainers.
Results from the central bank's special coronavirus stress tests, released on Friday, showed "a pass for all of the tested banks and a welcomed green light for capital returns," Credit Suisse Group AG analyst Susan Roth Katzke wrote in a note to clients. "The import of the latter -- an affirmation of balance-sheet strength and the efficacy of the existing regulatory framework -- cannot be underestimated," she said.
Along with Goldman and Morgan Stanley, Katzke highlighted BNY Mellon Corp. and State Street Corp. as other likely beneficiaries, while warning that Wells Fargo & Co. might be "more constrained by the Fed's limits." Wells Fargo shares closed 1.9% higher.
The six biggest U.S. banks will be able to buy back as much as $11 billion of their own shares next year. The Fed had put temporary caps on shareholder payouts, including buybacks, by the biggest banks earlier this year in order to ensure they had sufficient capital to deal with a Covid-19 ravaged economy.
The benchmark KBW Bank Index has been on the sidelines for most of 2020 and is still down 16% for the year, while the S&P 500 Index has hit fresh records, gaining 14%.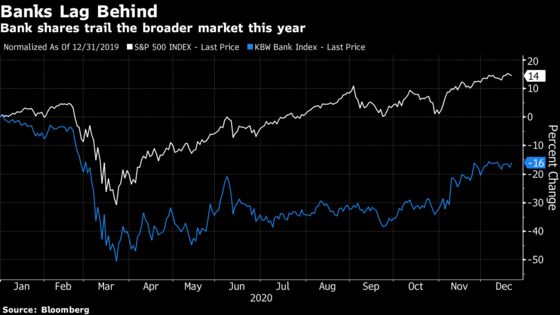 Here's a sample of the latest commentary:
Morgan Stanley, Betsy Graseck
Graseck called Goldman the "biggest winner as its trailing four quarters of earnings have been strong thanks to trading revenues."
She sees rising buybacks throughout 2021, as Fed rules mean that total capital distribution -- buybacks plus dividends -- will be capped at 100% of average quarterly net income over the prior four quarters. "As we roll through 2021, this four-quarter trailing earnings number will rise," she said, as "massive" loan losses booked in the first half of 2020 will no longer be part of earnings calculations.
Banks are set to outperform as the "vaccine rolls out, fiscal stimulus comes through, and the service economy potentially takes off." Plus, the Fed might remove the current ceiling on capital distributions in the June stress test results.
Banks have the capacity for buybacks in a range of 0.3% to 2% of market cap, Shea wrote. That's "most meaningful" to BNY Mellon, State Street, Morgan Stanley and Goldman Sachs.
Goldman Sachs, Richard Ramsden
"We see substantial capacity to repurchase shares," the Goldman analyst wrote. He also flagged Morgan Stanley, BNY Mellon and State Street as beneficiaries, and saw Wells Fargo, PNC Financial Services Group Inc. and American Express Co. as having the least capacity.
"We expect most banks to use the full potential capacity for buybacks, given that they now have certainty around the capital return framework for the first quarter, and in light of the fact that the framework could change in subsequent quarters," he said.
Atlantic Equities, John Heagerty
"We regard the resumption of buybacks as a positive trigger for the banks," Heagerty wrote. "The biggest beneficiaries appear to be JPMorgan, Goldman Sachs and Morgan Stanley, which have the strongest trading platforms and have therefore delivered net income above expectations in 2020."
He also sees loan growth returning in mid-2021, flattening net interest margins and reserve releases.
Keefe Bruyette & Woods, Sanjay Sakhrani
The Fed's surprise decision is positive for consumer finance firms , Ally Financial Inc., American Express, Discover Financial Services and Synchrony Financial, which will likely follow peers around capital-management rules, Sakhrani wrote. His earnings-per-share estimates hadn't incorporated share repurchases until 2022.
Bloomberg Intelligence, Alison Williams and Paul Gulberg
"The Federal Reserve allowing the largest U.S. banks to resume dividends in 1Q is sooner than expected and a positive regulatory signal. Broad bank-demonstrated ability to withstand harsher assumptions than June tests should also bolster confidence, but it was expected. Much steeper commercial real estate and card-loss rates incorporated are in-line with key cycle risks, though could lead to increased capital requirements for more exposed banks after 2021 exams, if assumptions are similarly harsh.