U.S. Bankruptcy Tracker: Supply Chain Disruption Kicks Up Stress
(Bloomberg) -- Though corporate bankruptcy activity remains muted, the volume of filings could pick up within the next year or two for middle-market companies and others that are "less prepared for big events and shifts," said Cowen Inc. restructuring banker Lorie Beers.
Five large companies filed for bankruptcy in the U.S. last week, marking a third straight week with a relatively elevated number of filings. Still, the pace has slowed substantially: in 2020, the third week of June saw thirteen.
Disruption to supply chains including the semi-conductor shortage "have changed industry metrics," and could result in future bankruptcy filings, said Beers, head of special situations and restructuring at Cowen. Car renter Hertz Global Holdings filed because of the pandemic, but the semi-conductor shortage and increased used-car prices benefited the already bankrupt company this year.
The food industry also experienced recent stress as a result of "extreme weather" which caused the price of grain to go "through the roof," affecting "every aspect of the food supply chain" and negatively impacting revenue because there "aren't goods to sell," Beers said. There could be more food-related companies that choose to restructure or file for bankruptcy protection as a result, she said.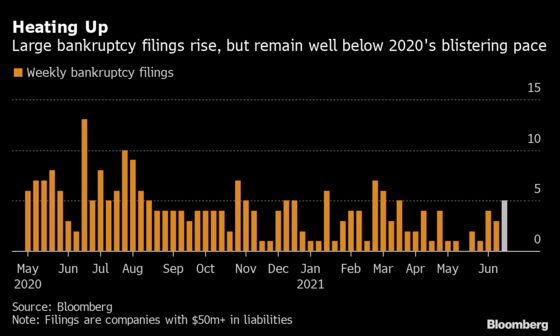 Last week's large bankruptcies included Washington Prime Group Inc. -- a mall-focused real estate investment trust -- and Pacific Theatres Exhibition Corp., a movie theater chain that filed for Chapter 7. Elsewhere, the entity behind a string of self-storage facilities in Texas filed for its second bankruptcy this year after a Delaware judge dismissed its prior case.
All told, 72 companies with at least $50 million of liabilities have filed for bankruptcy this year as of June 21, according to data compiled by Bloomberg. That's well below the 118 that had sought court protection during the same period last year, but still above the 10-year average of about 65.
Travel companies have also sought bankruptcy protection or experienced recent stress because of global disruption during the pandemic, which is "likely to persist," according to Beers. "We may see more foreign airlines use the mechanism of the U.S. bankruptcy court to solve their problems," as other countries have delayed re-openings and travel remains muted.
Meanwhile, the total amount of traded distressed bonds and loans rose 4.5% week-over-week to $60.5 billion as of June 18, data compiled by Bloomberg show. The amount of traded distressed bonds rose 1.1% week-on-week, while distressed loans climbed 12.4%.
Click here for a worksheet of distressed bonds and loans
There were 169 distressed bonds from 100 issuers trading as of Monday, down from 188 and 106, respectively, one week earlier, according to Trace data.
Diamond Sports Group LLC had the most distressed debt of issuers that hadn't filed for bankruptcy as of June 18, data compiled by Bloomberg show. Its parent company, Sinclair Broadcast Group Inc., said in a March filing that it expects Diamond to have enough cash for the next 12 months if the pandemic doesn't get worse.
| Top 5 Distressed Issuers | Debt ($B) |
| --- | --- |
| Diamond Sports Group LLC | 8.0 |
| Transocean Inc | 2.8 |
| Lightstone Holdco | 1.8 |
| PBF Holding Co. | 1.7 |
| Endo International | 1.5 |
Click here for more news on distressed debt and bankruptcy. First Word is curated by Bloomberg editors to give you actionable news from Bloomberg and select sources, including Dow Jones and Twitter. First Word can be customized to your Worksheet, sectors, geography or other criteria by clicking into Actions on the toolbar or hitting the HELP key for assistance.