U.S. Bankruptcy Tracker: Perella Sees 2021 Bust as Cash Runs Out
(Bloomberg) -- Companies piling on debt to get through the pandemic may end up starting a bankruptcy wave in the second quarter next year if Covid-19 drags on, says Perella Weinberg Partners Group LP's restructuring chief.
"Companies that have historically been able to raise liquidity won't be able to continue to withstand the operating and liquidity pressures of an extended pandemic," Bruce Mendelsohn, partner at Perella, said in an interview.
After a recent slowdown in filings by large U.S. companies, Mendelsohn predicts a spike in bankruptcies in the second through fourth quarters of next year, with malls and retailers among sectors at risk. The recent slowdown in filings follows government stimulus which added to the "robustness" of capital markets, he said.
There were just two Chapter 11 filings by companies with more than $50 million in liabilities in the week ended Oct. 24, the least since mid-June, data compiled by Bloomberg show. They were from New Hampshire hospital group LRGHealthcare and theater chain Studio Movie Grill Holdings, both citing Covid-19 for their distress.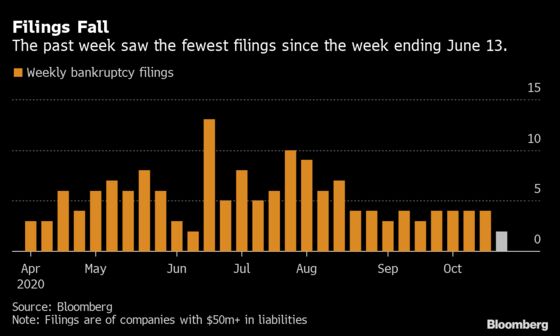 There have been 211 bankruptcy filings year-to-date by companies with more than $50 million in liabilities, according to data compiled by Bloomberg. That's the most since 2009, when there were 247 in the comparable period.
The Covid Bankruptcies: A Luxury Luggage Retailer to Hospitals
The junkiest companies are managing to dodge bankruptcy with bonds and covenant relief. Last week, several high-risk companies seized a funding window before expected volatility around the U.S. presidential election next month, including Ligado Networks LLC and Dave and Buster's Entertainment Inc.
When highly-leveraged companies do seek court protection, creditors are discovering their claims are almost completely worthless, with some bondholders getting back just a few cents on the dollar.
The total amount of distressed bonds and loans traded dipped 0.9% to $264 billion as of Oct. 23. That's down from $935 billion in March, Bloomberg data show. Volume of distressed bonds fell 1.7% while loans increased 0.7%.
Click here for a worksheet of distressed bonds and loans
There were 528 distressed bonds from 271 issuers trading as of Monday, up slightly week-on-week. That's significantly less than the 1,896 issues from 892 companies at the March 23 peak.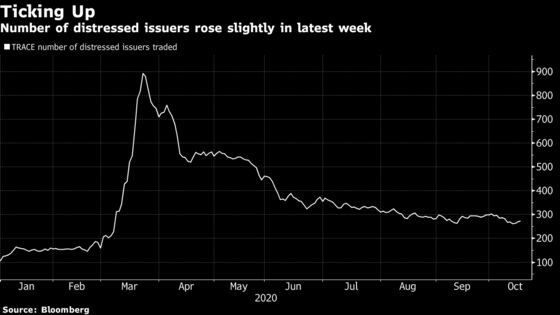 Diamond Sports Group LLC and Transocean Inc. were the issuers with the most distressed debt that hadn't filed for bankruptcy as of Oct. 23, data compiled by Bloomberg show.
Top 10 Distressed Issuers
Debt ($B)
Diamond Sports Group LLC
8.1
Transocean Inc
7.3
Bombardier Inc
7.2
American Airlines Inc
7.2
Ligado Networks LLC
7.0
Envision

Healthcare

Corp
6.8
CHS/Community Health Systems Inc
5.1
AMC Entertainment Holdings Inc
4.4
Crown Finance US Inc
3.3
PBF Holding Co
2.7
Several distressed companies have significant dates approaching. Transocean has a tender offer deadline, Antero Resources Corp. reports earnings, while GTT Communications Inc. has a deadline to file quarterly results.
Read more: AMERICAS DISTRESSED WATCH: Transocean, Antero, GTT, PREIT