Harvard Undercuts Own Logic in Foreign-Student Fight, U.S. Says
(Bloomberg) -- Harvard University can't argue that foreign students taking online-only classes in the U.S. will get a lesser education if they continue those studies from abroad, because Americans on its campus this fall will basically be learning the same way, the government said.
The Trump administration on Monday fired back at a lawsuit filed last week by Harvard and the Massachusetts Institute of Technology. The two sued over a new ban on visas for foreign students attending U.S. colleges that are switching to virtual instruction to protect students from infection by the coronavirus.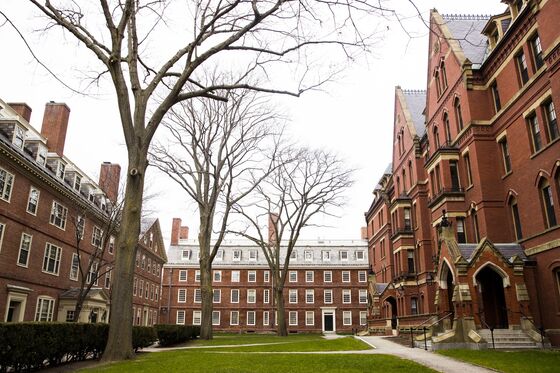 In a brief filed in federal court in Boston, the U.S. said Harvard and MIT can't persuasively argue that "there is a correlation between physical presence in the United States and the quality of education these reputable organizations provide" if they require almost all their students to learn online.
U.S. Immigration and Customs Enforcement posted the new rules a week ago, after Harvard announced a reopening plan involving almost exclusively online classes. The two colleges -- now supported by more than a hundred other schools, dozens of states and cities and some of the country's biggest technology companies -- said in their suit that the government had failed to consider the harm to students.
The two cited the impact on businesses as well, and on the U.S. gross domestic product, the broadest measure of economic output, citing "the loss of the tens of billions of dollars that international students contribute to U.S. GDP each year." They pointed to the role foreign students play in American innovation.
The two acknowledge that some students could, in theory, take part in online classes from their home countries, but not without serious disruption. They cite time zone differences, unreliable or state-managed Internet and armed conflict in some of the students' homelands.
"The loss of the ability to perform research or fieldwork, or even participate in basic coursework under reasonable conditions, will force many students to interrupt their studies" with leaves of absence or even withdrawal from the institutions, the colleges say.
And they argue that the value of a Harvard or MIT education for the student body at large "hinges on the diversity of perspective" offered by students from other countries. If they can't attend class, even virtually, the value is decreased for everyone, they say.
Among a number of anonymous testimonials filed in support of the lawsuit is one by an MIT student from Lebanon who says the National Aeronautics and Space Administration is depending on their research.
"Returning to Lebanon would halt my progress on my graduate studies and would negatively impact the team that I work with," the student writes, adding that "NASA is counting on our work" and that "because of the ongoing crisis in Lebanon, I am concerned about my safety and access to food in my home country."
The submission is anonymous "due to fears that, based on my participation in this litigation, I could face retaliation from immigration authorities," the student says.
The government said it wasn't indifferent to the impact of its decision on foreign students. If so, it might simply have rescinded guidance it published March 9 that students could take all their classes online during the pandemic. Instead, it now requires at least one in-person class for schools under a hybrid model, such as MIT's, but permits more online classes than it normally would, the U.S. said.
Massachusetts Attorney General Maura Healey on Monday filed a separate lawsuit against the new ICE policy, representing the attorneys general of 17 states and the District of Columbia.