Breakevens Surge as Traders Bet on Faster Fed Move After CPI
(Bloomberg) -- U.S. bond market expectations for inflation surged after consumer prices in October rose at the fastest pace since 1990, sparking traders to accelerate estimates for when the Federal Reserve will hike its benchmark interest rate to tamp down inflation.
The so-called five-year breakeven rate on Treasury inflation protected securities -- or the difference between those yields and the ones on typical Treasuries -- jumped as much as about 14 basis points to around 3.13%, a record high. Traders increasingly see risk that the out-sized pace of consumer-price increases will prove more sticky than the Fed now expects.
The spread between 2- and 10-year yields collapsed to as low as about 97 basis points as shorter-term rates rose faster, with the specter of Fed rate hikes moving closer into view. Money market traders moved forward expectations for the Fed's first rate increase to July from September.
"There's a growing recognition that perhaps the Fed is moving too slowly," said David Petrosinelli, senior trader at InspereX. "Flatter curves are a result of people believing that shorter-term rates are going to go higher in the near term," and asking whether "at the end of the day, does the Fed have to over-correct."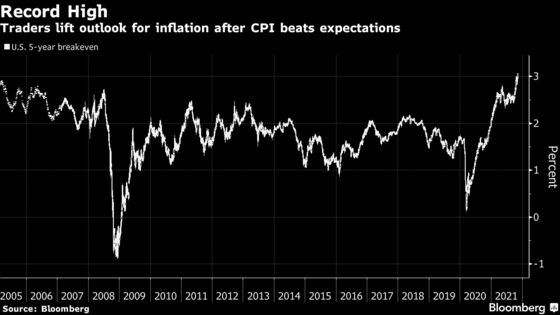 The consumer price index increased 6.2% last month from a year earlier, according to Labor Department data released Wednesday. It jumped 0.9% from September, the largest advance in four months. Both increases exceeded all estimates in a Bloomberg survey of economists.
Two-year Treasury yields rose about 9 basis points to around 0.51%. Ten-year yields were up about 7 basis points to 1.52%. The five-year yield rose more than 10 basis points to about 1.19%, the highest level since Nov. 4. Its 2021 peak was 1.25% on Oct. 22. 
Fed Chair Jerome Powell said earlier this month that officials could be patient on raising interest rates -- after announcing a start to reducing their bond purchases -- but won't flinch from action if warranted by inflation. Wednesday's robust consumer price reading made traders suspect the later case will be borne out.
"Inflation is broadening out," Greg McBride, chief financial analyst at Bankrate.com, said in a note. "Consumers are feeling it in the pocketbook at the gas pump, grocery store and tenants in many parts of the country."
Former U.S. Treasury Secretary Larry Summers said global financial markets appear to be anticipating slow growth and low real interest rates for the next few years, which will gut the ability of central banks to guide economies.
The 10-year breakeven rate on TIPS rose more than 7 basis points to as high as around 2.72%. TIPS are tied to consumer prices, which have historically exceeded the inflation the Fed targets -- the personal consumption expenditure index -- by about 40 basis points.
"Near-term inflation readings may be intimidating to 'inflation fighters' (including, increasingly, White House concerns), which could press central bankers to at least discuss a faster reaction-function versus the slower reaction-function of this year thus far," BlackRock Inc.'s Rick Rieder said in a note.