U.S. 30-Year Yield Drops Below 2% for First Time Since October
(Bloomberg) -- The yield on the 30-year Treasury bond fell below 2% for the first time since October, extending a month-long slide driven mainly by concern about the potential economic fallout from the coronavirus epidemic that began in China and has spread to other countries.
The move gained momentum following the Federal Reserve policy remarks on Wednesday. Longer-term Treasury yields have fallen even as Fed Chairman Jerome Powell signaled that the central bank would redouble efforts to spur inflation. And a key part of the yield curve -- the gap between rates on three-month and 10-year U.S. debt -- sent a recession warning by inverting the past two days.
The 30-year yield dropped more than 5 basis points Friday to 1.9950%, reaching the lowest level since Sept. 5.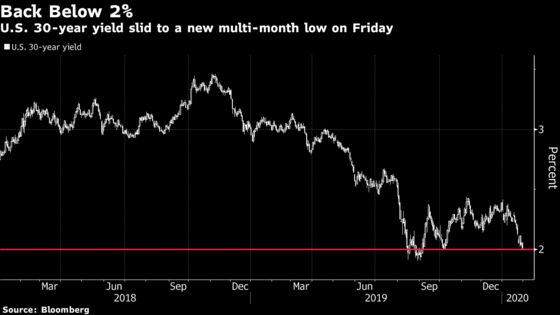 "What the market is telling you is that the Fed has to cut rates here a lot sooner than people think," possibly as soon as March or April, said Tom di Galoma, managing director of government trading and strategy at Seaport Global.
"The global economy is going to suffer, certainly with the outbreak of virus, from a transportation, trade and travel standpoint," he said. "We're going to see a significant slowdown here if this continues."
After falling to a record low of 1.904% in August 2019 in a rally fueled by concern that trade protectionism would hurt the U.S. economy and by sliding European yields, the 30-year yield rebounded, climbing as high as 2.44% in November. Its January decline was aided by hostilities between the U.S. and Iran early in the month and soft American and U.K. inflation data mid-month.
For di Galoma, if the 30-year breaks through 1.95%, "we'll probably get to 1.80%."