U.K. Youth Not in Work or Training Increase Most Since 2011
(Bloomberg) -- The number of young people in the U.K. not in education, employment or training rose at the fastest pace since 2011 last quarter, highlighting the impact of coronavirus lockdown restrictions.
The Office for National Statistics counted 797,000 people age 16 to 24 who were inactive or unemployed in the final three months of 2020. That's about 11.6% of that segment of the population and up 0.6 percentage points from the third quarter.
The figures cover a period that saw the re-imposition of curbs to fight a second wave of Covid-19. Young people are more likely to work in sectors hit hardest by the pandemic such as hospitality and tourism.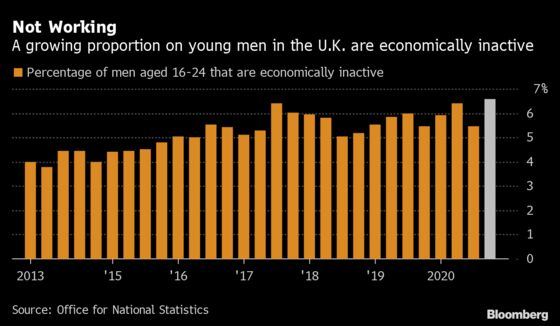 The quarterly increase of 39,000 was almost entirely driven by economically inactive men, classified as such because they were neither seeking employment nor available for work. Less than half of all NEETs, as they are called by statisticians, were looking for a job.