WH Smith Eyes Rail Expansion as U.K. Weekend Getaways Return
WH Smith Plc is focusing on new store formats at rail stations as staycations boost demand for domestic leisure travel. 
The U.K. retailer recently opened a shared space store with Marks & Spencer Group Plc at Temple Meads station in Bristol and plans to open a store at London's Euston terminus next month, which will sell electrical accessories and health and beauty products along with the usual offering of newspapers and books. 
"We saw an improved performance in our rail business as restrictions eased over the summer months and commuter traffic increased," the company said in a statement Thursday. Since the start of WH Smith's financial year in September, the company said it has "seen a notable shift in rail passenger numbers with strong performances particularly over weekends."
More Britons have been choosing to take domestic trips this year as pandemic restrictions deterred some foreign travel. Still, the easing of lockdown rules as well as more countries being added to the U.K. government's travel green list have also helped to improve air passenger numbers, WH Smith said. Revenue in the company's rail business was at 74% of 2019 levels in October, compared with 59% for its stores at airports.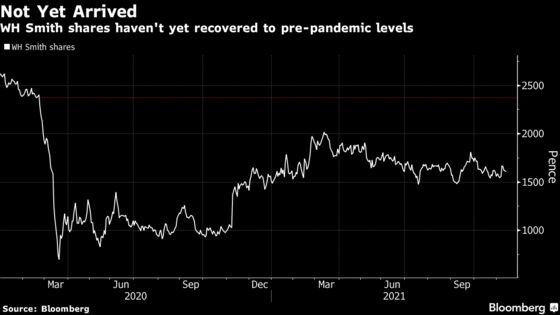 Passenger numbers at London's Heathrow hub grew for a sixth consecutive month in October but remained 56% below the pre-pandemic total, according to the airport. Bookings are picking up further with the reopening of the U.S. border to vaccinated Europeans this week.
WH Smith isn't the only company benefiting from a pickup in rail passengers. Pret A Manger Ltd.'s sales in London train stations set a new pandemic high last week and are just a fraction below pre-Covid levels, according to Bloomberg's Pret Index.
Shares in WH Smith were trading 0.7 percent lower as of 9:56 a.m. in London, and are still about 32 percent below their pre-pandemic level.