U.K. Treasury Interviewed Two Women, Seven Men for BOE Governor
(Bloomberg) -- The U.K. Treasury shortlisted two women and seven men to replace Mark Carney as governor of the Bank of England.
Of the 23 applicants for the post, 21 were male, and both of the female candidates went through to the interview round, Chancellor Sajid Javid said in a December letter to Parliament's Treasury Committee which was published Monday. The position was eventually given to Financial Conduct Authority chief Andrew Bailey, a BOE veteran.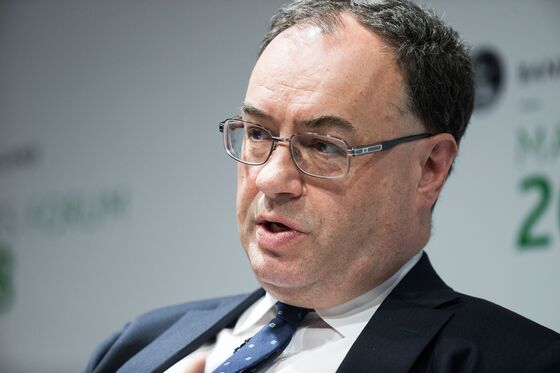 The appointment raised some eyebrows given the focus on diversity in both government and the BOE in recent years. Currently all four of the central bank's deputy governors are men, and the only woman in the institution's top echelon is Joanna Place, the chief operating officer. There's just one woman on the nine-member rate-setting committee.
Bailey's appointment as the 121st man to head the BOE since its creation means that by the time his term is finished, it will have had 333 years of male leadership. Former Prime Minister Theresa May, under whom the recruitment process was started, had suggested to lawmakers that she would welcome a female central bank chief.
In his letter to the Treasury Committee, whose role is to oversee both the Treasury and central bank, Javid described him as "highly qualified" and said that "his knowledge and skills will be extremely useful."
Lawmakers on the committee have expressed concern about the absence of diversity in senior positions at the BOE and previously said they could decide not to approve an appointment if it felt insufficient effort had been made to find a more diverse candidate. While that wouldn't bind the Treasury to choose an alternative, it could prove highly embarrassing.
While the gender data in the letter was anonymized, fund manager Helena Morrissey has said that she was one of those interviewed for the role. Former BOE Deputy Governor Minouche Shafik, the director of the London School of Economics and Santander U.K. Chair Shriti Vadera were also speculated to be potential candidates.