U.K. to Mint Brexit Coins Months After Early Version Melted Down
(Bloomberg) -- The U.K. will release about 3 million Brexit coins on Friday when the country officially leaves the European Union, marking the third version of the commemorative currency after the departure date was twice delayed.
The seven-sided, 50 pence (65 U.S. cents) coin are embossed with the Jan. 31 date and "Peace, prosperity and friendship with all nations," the Treasury said in a statement.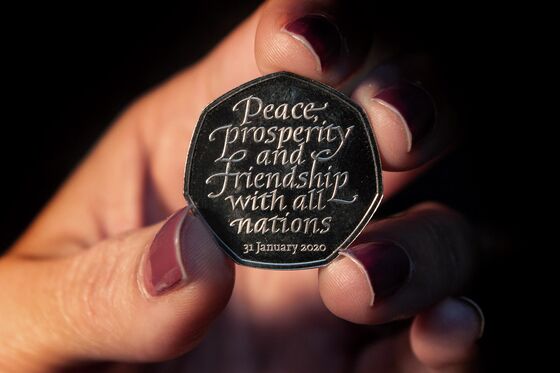 Last year, then Chancellor Philip Hammond planned a batch to commemorate the original March 29 Brexit day. When the U.K.'s exit was delayed, his successor Sajid Javid produced about a million of the coins stamped with the Oct. 31 departure date. But those had to be melted down when Brexit was put off once more.
"Leaving the European Union is a turning point in our history and this coin marks the beginning of this new chapter," Javid said in the statement. A further 7 million will enter circulation later this year.
The U.K. has used the 50 pence coin to celebrate national achievements ranging from the 2012 London Olympics to the work of children's author Beatrix Potter. The Royal Mint struck coins when the U.K. joined the European Economic Community in 1973, the single market in 1992 and held the rotating EU presidency in 1998.