EU Net Migration to the U.K. Hits Ten-Year Low Before Brexit
Net migration to Britain from other European Union countries is at its lowest level in a decade as Brexit uncertainty escalates.
EU citizens arriving in the U.K. outnumbered those leaving by just 57,000 in the 12 months through September, the least since 2009 and half the number recorded a year earlier, the Office for National Statistics said Thursday. Overall net migration, including from non-EU countries, was little changed at 283,000.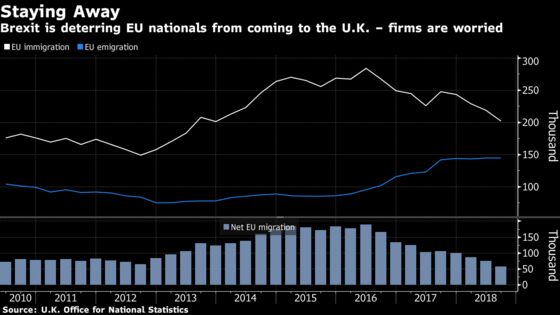 EU net migration has plunged by 70 percent since Britain voted to leave the bloc in the June 2016 referendum. That may please Brexit supporters, many of whom were driven by a desire to curb free movement for EU nationals, but the fall is making it harder for sectors that rely on European workers to fill vacancies.
"Already, firms across the retail, hospitality and construction sectors are facing obstacles as some EU workers are returning home, while it's also becoming harder to attract labor from Europe amidst the uncertain political climate," said Tej Parikh, senior economist at the Institute of Directors lobby group. "Larger organisations have looked to hire from further afield to compensate, despite the additional paper work, but this can be harder for many resource-constrained SMEs."
The fall in the latest year was driven by fewer arrivals from the EU, rather than more people leaving, with EU immigration declining to 202,000, the lowest for almost five years. Nationals of the eight eastern countries that joined the EU in 2004 are now leaving on balance, with departures outnumbering arrivals by 15,000.
Prime Minister Theresa May could nonetheless struggle to meet her goal of net migration in the "tens of thousands.''
Migration from the EU has already fallen sharply from a peak of 189,000 in the year before the Brexit referendum and arrivals from other countries are increasing, driven by people coming to the U.K. to study. Net migration from countries outside the EU in the latest year was 261,000, the highest since 2004.
In the third quarter alone, net inflows from non-EU countries surged to 130,000, the most since at least 2008. Net migration from the EU in the period was 29,000.
"Decisions to migrate are complex and a person's decision to move to or from the U.K. will always be influenced by a range of factors, including work, study and family reasons,'' said Jay Lindop, an immigration statistician at the ONS.