U.K. Inflation Markets Price in Changes to Flawed RPI by 2030
The U.K. will continue issuing gilts linked to the Retail Prices Index, widely recognized as flawed, but a plan to overhaul the measure by 2030 is already rippling through financial markets.
Fixed-income traders began pricing in slower inflation, with the so-called breakeven rate out to 30 years dropping to the lowest level since 2016. The Treasury said it will launch a consultation in January over a proposed change to bring the RPI in line with a measure of consumer prices and housing costs, due to come into effect between 2025 and 2030.
"The inflation rate will be lower from 2030 onward, or it could be earlier," said Jorge Garayo, a fixed-income strategist at Societe Generale SA. "This RPI convergence to CPIH will dominate movements in the U.K. linker market."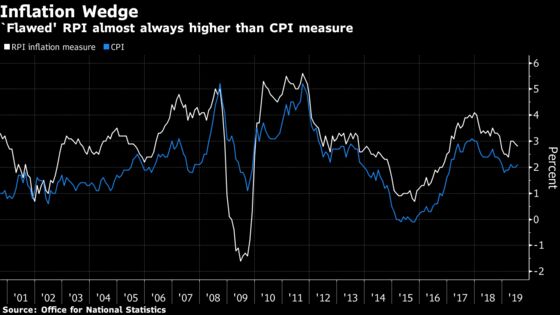 The government was responding to long-running criticism of RPI and calls for the measure to be scrapped or reformed. In a series of letters published Wednesday, Chancellor of the Exchequer Sajid Javid indicated he was unwilling to introduce a law to scrap RPI entirely, and while the U.K.'s Statistics Authority welcomed that move, it said it would prefer if it were made earlier.
"I want to ensure that the Treasury, alongside the rest of government, has the time and space to focus on delivering Brexit," Javid wrote. "Therefore, we will begin our consultation in January 2020."
Inflation markets showed traders already positioning for a shift in the measure, with 30-year breakeven rates dropping as much as 18 basis points to 3.02%. Some of that move also reflected U.K. lawmakers taking the first steps to delay the possibility of a no-deal exit from the European Union on Oct. 31, according to strategists. Leaving without an agreement would cause an inflationary shock through pound weakness and potential supply disruptions.
The decision by the U.K. Treasury follows a report by the Lords' Economic Affairs Committee earlier this year. It suggested an interim switch to the Consumer Prices measure in all areas not governed by private contracts, including index-linked gilts. Javid said the reason for the delay for the change until at least 2025 was to give investors and households time to prepare.
"We're pleased that the government is moving this on,'' said David Norgrove, chair of the U.K. Statistics Authority, in an interview. "It's a substantial step, but we're disappointed it's not happening before 2025. From a technical point of view, we could make the change in 2021.''
A move away from RPI-linked debt has been suggested before, but the Treasury said in 2013 it would continue to issue gilts based on the measure. It tends to be higher than the more widely used CPI, which benefits investors and pensioners whose payments are based on it. The BOE has previously estimated the wedge between RPI and CPI at about 70 basis points.
The main problem in RPI arises from the collection of price quotes for clothing -- with the example of women's "strappy tops" often cited. Fixing it requires approval by the Chancellor because it would cause "material detriment" to linker holders by potentially lowering returns, the report found.
Speaking in 2018, Bank of England Governor Mark Carney said the U.K. should move away from using the retail prices index for future inflation-linked bonds because the measure contains "known errors."
Talking about linkers in particular, Carney notes that the impact on investors means there shouldn't be an immediate switch, but added:
"We wouldn't want to be in the same position 10 years from now," he said. "In the end you have to pick a date -- and it tends to be seven, eight, 10 years down the road -- at which you will have transitioned off, and then work back. And then it gets in the market."