U.K.'s Shrinking Gender Pay Gap Shows Age and Location Matter
(Bloomberg) -- The U.K. gender pay gap shrank to the lowest on record this year, even as men continued to out-earn women across every occupation.
Among all types of employee, women's pay was 17.9 percent lower than male peers on average, down from 18.6 percent last year. For full-time workers, the gap was far lower at 8.6 percent, reflecting the fact that more women work part-time jobs, which are lower paid. That was also down from 2017.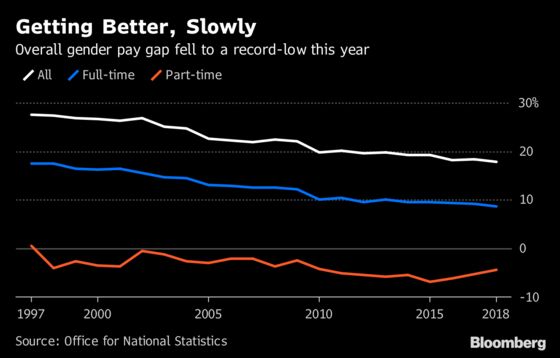 The Office for National Statistics data on Thursday showed that men were on average higher paid in all of the industry groups, with the largest disparity in the skilled trades such as electricians and mechanics, which have been traditionally male-dominated. The smallest gap was in sales and customer service roles, where previous ONS numbers have shown the workforce is almost evenly split between the genders.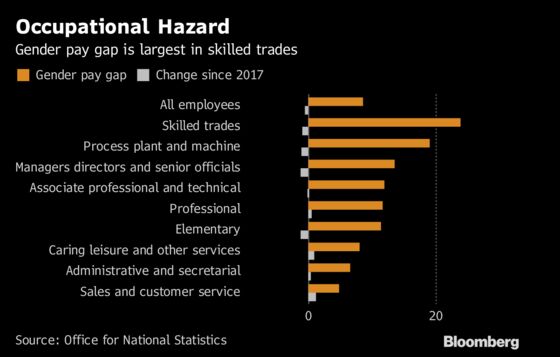 Even so, the report found that overall the pay gap for full-time employees is close to zero at younger ages, before widening significantly from the age of 40.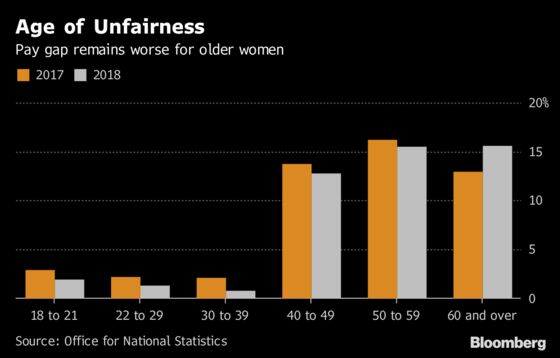 The question of equal pay has been pushed into the spotlight this year after a U.K. law came into effect requiring firms to publicly state the wage differential between their male and female staff. Around 8,000 local council workers in Glasgow, Scotland, staged a strike this week over claims workers in roles largely filled by women, such as catering or cleaning, were paid less than those in male-dominated areas such as refuse collection.
It's not only what you do, but where that affects the pay gap . The disparity between men and women working in London has barely changed in over two decades, the ONS data show.