U.K.'s Raab Heads to Brussels as Brexit Talks Hit End Stage
(Bloomberg) -- U.K. Brexit Secretary Dominic Raab made a surprise visit to Brussels on Sunday to meet the European Union's chief negotiator Michel Barnier, as a person familiar with the situation said the prospects of a deal were improving.
"With several big issues still to resolve, including the Northern Ireland backstop, it was jointly agreed that face-to-face talks were necessary," a spokesman for the government said in a statement. EU ambassadors and the Commission will meet to discuss Brexit later on Sunday.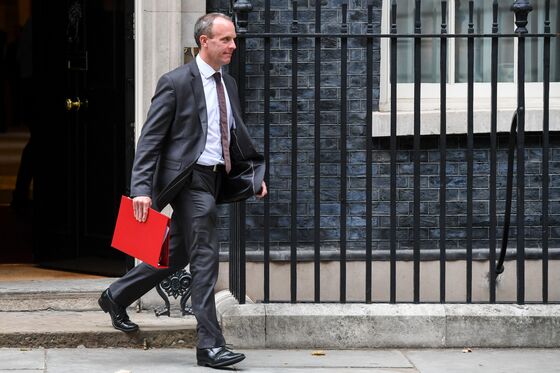 Officials are trying to hammer out at least an outline agreement for the divorce this weekend, in time for an announcement on Monday and an EU summit on Wednesday. The biggest dispute remains how to keep the border between Northern Ireland and the Republic of Ireland free from customs checks, without erecting barriers between Northern Ireland and Britain.
Markets are increasingly expecting a deal to be signed this year, allowing for an orderly exit and a two-year grace period in which trading rules remain the same. Some of the trickiest decisions about the future relationship will have to be postponed until after exit day.
Once a divorce deal is clinched, Prime Minster Theresa May will still have to get it approved by Parliament, where she doesn't have a majority. The concessions she has floated in negotiations have enraged at least groups of lawmakers whose votes she will need to get the final accord through Parliament.
Northern Ireland's Arlene Foster, whose Democratic Unionist Party is propping up May's government, is one of the most vociferous critics of May's approach. The Observer newspaper reported on Sunday that she thinks Britain is probably going to crash out of the bloc without a deal as she will reject any proposal in which Northern Ireland is treated differently from the rest of the U.K.
Pro-Brexit lawmakers have also balked at concessions that could lock the country into EU regulations indefinitely.
As the pressure mounts to get a deal -- or risk a chaotic exit in March next year -- both sides are stepping up their contingency plans in case talks fail. If there's no progress this week, EU leaders are considering holding a crisis summit next month to discuss worst-case plans, according to EU diplomats.
But if all goes well, the outline of a deal could be reached this week and then the accord could be signed in mid-November. Then the real battle for May would begin as she lobbies to get it through Parliament.
Support from the opposition will be crucial. Caroline Flint, an opposition Labour lawmaker, said on Sunday she's open to supporting the deal. That would almost certainly mean going against party discipline. May has to calculate how many other Labour members, particularly in pro-Brexit constituencies, she can also count on.
Meanwhile, former Brexit Minister David Davis, writing in the Sunday Times, urged senior ministers to rebel against May's "flawed" plan to keep the nation in the customs union with the EU. There wasn't much evidence on Sunday of his call gaining traction though.