Brexit Deal in Balance as Raab's Dash to Brussels Falls Short
A Brexit deal hung in the balance with just days to go until a critical deadline, as a surprise Sunday visit to Brussels by Brexit Secretary Dominic Raab wasn't enough to break the deadlock.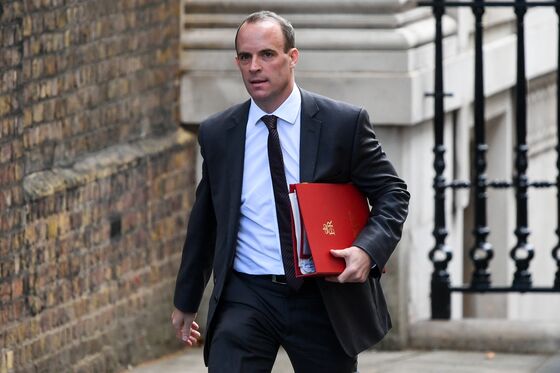 Two people familiar with the situation said there were signs of progress. But officials on both sides played down the chances of an imminent agreement, and denied a report in Politico that a deal was done. After Raab's talks with chief European Union negotiator Michel Barnier, there are still issues to be resolved, according to two people familiar with the situation.
EU ambassadors are holding a hastily convened meeting with European Commission in Brussels on Sunday evening.
After more than a year of talks -- which have been slow, halting and sometimes acrimonious -- officials have been racing to get the outline of a deal done, as European leaders want something on the table for a summit on Wednesday. They're keen to avoid a repeat of a diplomatic disaster in Salzburg, Austria, last month when Prime Minister Theresa May was left isolated and humiliated, and investors were rattled by what looked like the growing prospect of a messy divorce.
With just five months until Britain is due to leave the bloc, with or without a deal, businesses are increasingly anxious to see the terms of the divorce and to secure the two-year transition period that they need to avoid a chaotic legal limbo. Even if May gets a deal this week, the real battle will be getting it through Parliament, where she faces opposition on all sides.
The biggest dispute in negotiations remains how to keep the border between Northern Ireland and the Republic of Ireland free from customs checks, without erecting barriers between Northern Ireland and Britain. If a deal can be done on the border, the rest of the agreement should fall into place.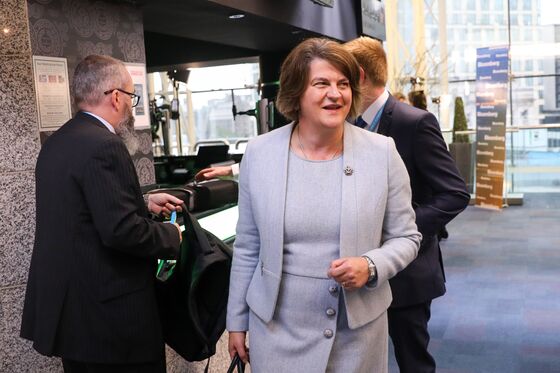 As both sides come up with new ways of squaring the circle, it's looking increasingly likely that the whole of the U.K. will stay tied to EU customs rules for years after Brexit -- something many businesses will welcome, even if it brings added uncertainty.
But the plan for the Irish border has enraged at least two groups that May needs in order to get her deal through Parliament, where she doesn't have a majority.
Northern Ireland's Arlene Foster, whose Democratic Unionist Party is propping up May's government, is one of the most vociferous critics of May's approach. The Observer newspaper reported on Sunday that Foster thinks Britain is probably going to crash out of the bloc without a deal as she will reject any proposal in which Northern Ireland is treated differently from the rest of the U.K.
Pro-Brexit lawmakers have also balked at concessions that could lock the country into EU regulations indefinitely. At least one is considering resigning, and a Cabinet meeting on Tuesday is shaping up to be a showdown between May and her more hardline ministers.
As the pressure mounts to get a deal -- or risk a chaotic exit in March next year -- both sides are stepping up their contingency plans in case talks fail. If there's no progress this week, EU leaders are considering holding a crisis summit next month to discuss worst-case plans, according to EU diplomats. They would hold it on the date that's been set aside for a possible signing of the divorce treaty.
In the best-case scenario, an outline of a deal could be thrashed out this week, before the treaty is signed in mid-November. Then the real battle for May would begin as she lobbies to get it through Parliament.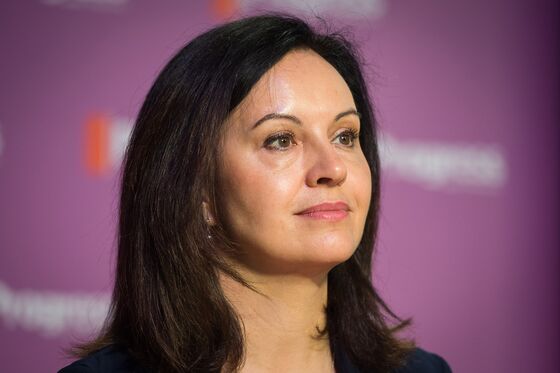 Support from the opposition will be crucial. Caroline Flint, an opposition Labour lawmaker, said on Sunday she's open to supporting the deal. That would almost certainly mean going against party discipline. May has to calculate how many other Labour members, particularly in pro-Brexit constituencies, she can also count on.