U.K. Goes Green as Part of Bigger-Than-Forecast Bond Sale Plan
(Bloomberg) -- The U.K. will sell more bonds than expected in the next fiscal year, including its first green issue, as the nation emerges from the country's deepest recession in three centuries.
Gilts fell across the curve on Wednesday after the Debt Management Office announced that it will sell 295.9 billion pounds ($413 billion) of bonds in 2021-22. Long-end issuance will comprise more than a quarter of all sales, which mark a 39% decrease from an expected record high of 486 billion pounds in the current fiscal year.
That's still above a median estimate of 249.5 billion pounds in a Bloomberg survey of 16 primary dealers. Ten-year gilt yields rose as much as nine basis points to 0.77%.
"The government is more than spending the savings made so far," said Adam Dent, U.K. rates strategist at Banco Santander SA. There are "lots more gilts" than expected.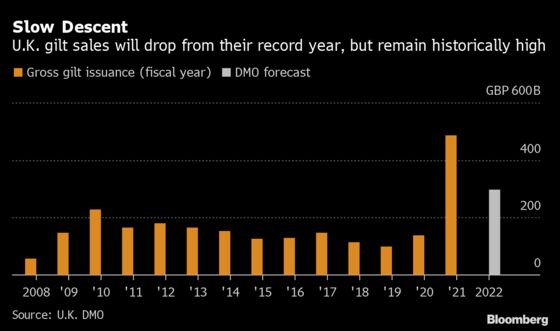 Britain's bond issuance will aid an economy that shrank 9.9% in 2020, the biggest contraction since 1709. The government will also sell at least 15 billion pounds of green bonds -- a first for the nation -- with the debut issue to be launched in the summer, followed by a second before the end of the year.
For the DMO, there will be some relief that the borrowing outlook appears more stable than last year, especially given Chancellor of the Exchequer Rishi Sunak's determination to bring Britain's public finances under control. The drive marks a very different tone from the global consensus for uninhibited crisis spending and comes as the gilt market has been left reeling in recent weeks amid a global bond selloff.
Benchmark government bonds are coming off the back of their worst month since 2016, with Britain's rapid vaccine rollout spurring hopes of a faster economic recovery and more rapid price increases. Ten-year yields touched 0.84% last week, their highest level since the virus-induced market meltdown almost a year ago. Goldman Sachs Group Inc. sees gilts continuing to underperform their German peers in the coming months.
The nation's 10-year breakeven rate, a gauge of inflation expectations over the coming decade, jumped to 3.4% last month, its highest level since 2019. Investors are betting on a surge in prices with Britain's vaccine rollout paving the way for an economic recovery this year.
Around 11% of the country's bond sales this year will be comprised of index-linked gilts, from just over 6% last year. It follows last year's announcement that the government will delay changes to the Retail Price Index to 2030.