U.K.'s High-Tax Economy to Cost Households Over £3,000 a Year
Boris Johnson is on track to preside over a 3,000-pound ($4,130) increase in tax per household by 2027 under the government's new vision of "big state" conservatism, according to the Resolution Foundation.
Chancellor of the Exchequer Rishi Sunak's budget Wednesday included policies that reward low-income workers but increase taxes on middle and high-income households, the think tank said Thursday. Add in the impact of rising inflation, and household incomes are set to stagnate, Resolution said.
Sunak could have decided to use better economic forecasts to partially reverse the huge tax increases announced in March, rather than commit to big increases in spending, according to the Institute for Fiscal Studies. His decision will anger many Tory lawmakers, who favor low taxes and a smaller state. 
While Sunak has said he thinks there are limits to what the government can do, and insisted Thursday he was "uncomfortable" with the current tax level and wanted to lower it, his budget lifted tax as a share of the size of the economy to the highest since the early 1950s.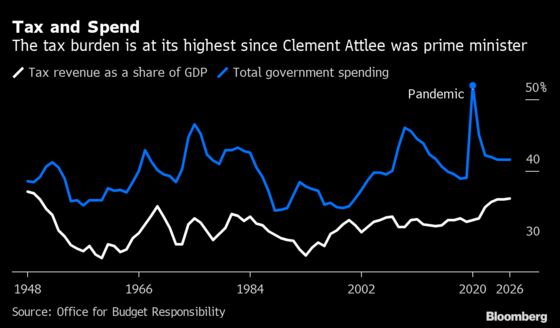 Sunak may be banking on being able to cut taxes ahead of the next general election, due in 2024 at the latest. However, his room for maneuver is limited by new fiscal rules committing the government to ending borrowing for day-to-day spending, a target he's forecast to achieve with a slender margin for error.
Sunak's budget decisions, including the recent rise in National Insurance, a payroll tax, came despite a brighter economic outlook that dramatically improved the outlook for the public finances. Much of the extra money was used to boost funding for pandemic-ravaged public services. 
"Had he not topped up his spending plans he could have reversed a third" of the tax rises made in March, which included freezing tax-free thresholds, Paul Johnson, director of the IFS, said Thursday. "With a more positive economic and fiscal outlook he has not decided to reverse any of those tax rises, he has decided to bank them, raise spending, and bring borrowing in below pre-pandemic forecasts."
"The worry for the government is that, for all the chancellor's upbeat delivery, the voters may not get much feelgood factor," he added. "High inflation, rising taxes, and poor growth, still undermined more by Brexit than by the pandemic, will see real living standards barely rising and, for many, falling over the next year."
The budget leaves the U.K. on course to become a high-tax economy, rather than the high-wage one promised by Johnson, the Resolution Foundation said, predicting "the U.K. still in the midst of its weakest decade for pay growth since the 1930s." 
"Higher taxes aren't a surprise given the U.K. is combining fiscal conservatism with an aging society and a slow-growing economy," Resolution Chief Executive Torsten Bell said. "But it is the end of low tax conservatism."