U.K. Retailers' Earnings at Risk of 30% Drop in a No-Deal Brexit
U.K. retailers may see their earnings tumble as much as 30% in the event of a no-deal Brexit, according to Citigroup Inc.
The companies may have to revisit their guidance in the event that the U.K. leaves the European Union without a deal, meaning earnings per share could be cut by between 5% and 30%, the broker said.
"A number of retailers have based their outlook on an orderly Brexit or made no assumptions given the uncertainty," Citigroup analyst Adam Cochrane wrote in a note Wednesday. "At the very least there will be margin headwinds from the weaker sterling and the risk to consumption looks skewed to the downside that is not currently reflected."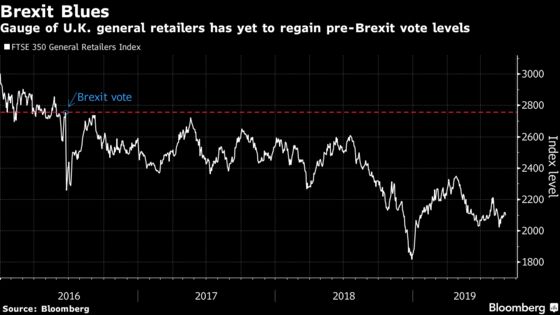 The FTSE 350 General Retailers Index has fallen 24% since the Brexit referendum in June 2016 as consumers curtailed spending amid uncertainty about how the economy would fare.
Homewares seller Dunelm Group Plc said Wednesday it remains cautious about the full-year outlook "due to increased Brexit uncertainty and specifically the impact it may have on consumer spending as we enter our peak period." Car-parts and bicycles seller Halfords Group Plc said it expects "economic and political uncertainty will continue to impact big-ticket discretionary spend" during the second half of the year.