Japan Approves Pfizer Shot; Auckland Locked Down: Virus Update
The pace of the coronavirus outbreak in the U.S. continued to ease as the country's week-to-week average fell to its lowest in almost four months. The White House issued its strongest criticism yet of the World Health Organization's handling of the investigation into the origins of the virus and China's involvement in the probe's findings.
New Zealand imposed a three-day lockdown on Auckland with the discovery of several local cases, bringing an abrupt halt to the country's summer of unrestricted movement. Melbourne recorded only one community infection, bringing hope that its lockdown can be lifted this week.
Subscribe to a daily update on the virus from Bloomberg's Prognosis team here. Click CVID on the terminal for global data on cases and deaths.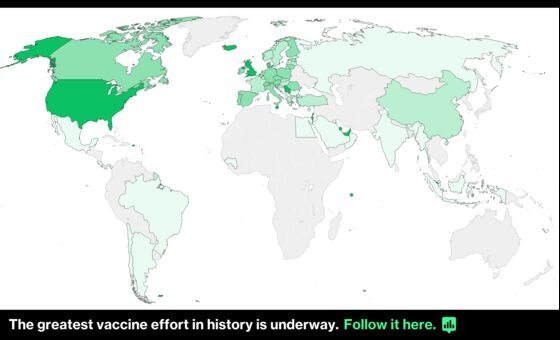 NZ Gets Reality Check as Auckland Locked Down (7:27 a.m. HK)
New Zealand's summer of unrestricted movement and social interaction has been brought to an abrupt halt by three new community cases of Covid-19.
After an emergency cabinet meeting on Sunday, Prime Minister Jacinda Ardernplaced largest city Auckland into a snap, three-day lockdown and reimposed social distancing requirements for the rest of the country while authorities race to find the source of the new infections. Genomic sequencing shows them to be the more virulent U.K. strain of the virus, the Ministry of Health said on Monday.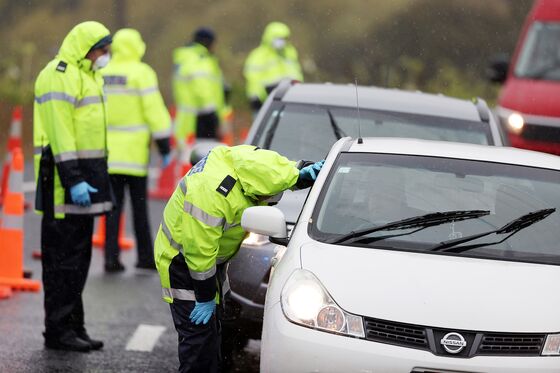 Lack of Melbourne Cases Raises Hopes on Lockdown (7:23 a.m. HK)
Melbourne has recorded 1 new locally acquired case of Covid-19 in the past 24 hours, bringing the Australian city's Holiday Inn cluster to 17 cases.
The lack of new cases may give optimism to Victoria Premier Daniel Andrews that the cluster of the U.K. strain of the virus is being contained, and could allow the state's 5-day lockdown to be lifted on Thursday as planned. The cluster emerged from a hotel in Australia's second-most populous city being used to quarantine overseas arrivals.
Gottlieb Calls for Tailored Vaccine Solutions (3:31 p.m. NY)
The Biden administration should consider tailored solutions to get the vaccine into "underserved communities," including mobile vans and grass-roots outreach to community groups instead of mass vaccination sites, former FDA Commissioner Scott Gottlieb said.
"I'd be marshaling federal resources toward that kind of a mission and letting Walmart work off the easy demand," Gottlieb said Sunday on "Face the Nation."
"People who can go online, register, drive to Dodger Stadium, wait in line, take a half a day off from work to get vaccinated -- those are people who could be serviced by Walmart, CVS, Rite Aid."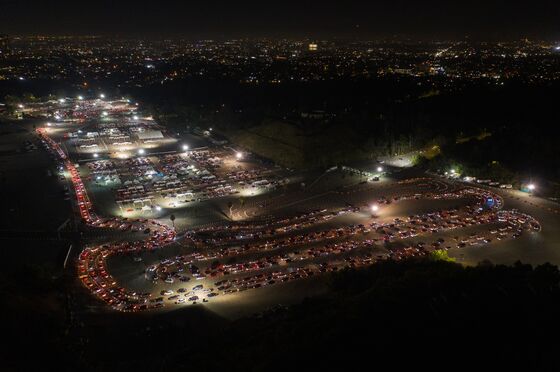 California's Positive Rate Falls to Three-Month Low (2:10 p.m. NY)
California's 14-day positive test rate dropped to 4.6% yesterday, the lowest since Nov. 15, according to the health department's website. The state also reported fewer new cases and fatalities than its 14-day rolling average. There were 8,842 new Covid-19 cases, below the average of 11,181, and 408 deaths, fewer than the 439 average. California has administered 5.98 million vaccinations to date.
Italy Extends Ban on Ski Resorts (1:56 p.m. NY)
Italy extended its ban on ski resorts, set to expire on Monday, until March 5, Ansa reported. The action was taken by Health Minister Roberto Speranza after warnings from a senior aide as well as Italy's Scientific Committee that the spread of new coronavirus variants made the reopening of resorts too risky, despite the overall easing of outbreak in Italy and a loosening of other restrictions. Resorts were a source of infection in last year's deadly surge in Italy.
Mexico Hopes to Work With Cuba on Vaccine Trial (12:55 p.m. NY)
Mexico is in talks with Cuba to host part of a trial on a Covid-19 vaccine in an effort to draw more supplies from international laboratories as doses run short in the country and the death tally grows.
So far, just 0.5% of Mexico's population has received at least one vaccine against the coronavirus, compared with 11.5% in the U.S., according to the Bloomberg vaccine tracker.
Czechs Extend Lockdown (12:29 p.m. NY)
The Czech government prolonged its pandemic lockdown measures, escalating its conflict with lawmakers opposed to the extension even as the country struggles to contain one of the worst outbreaks in Europe.
The cabinet of Prime Minister Andrej Babis on Sunday agreed to maintain the state of emergency for two more weeks, keeping the legal framework allowing it to shut shops and services, curb movement of people and impose a nighttime curfew. Babis's rivals said the move violated the constitution.
U.K. Confirms Vaccine Target Reached (12:04 p.m. NY)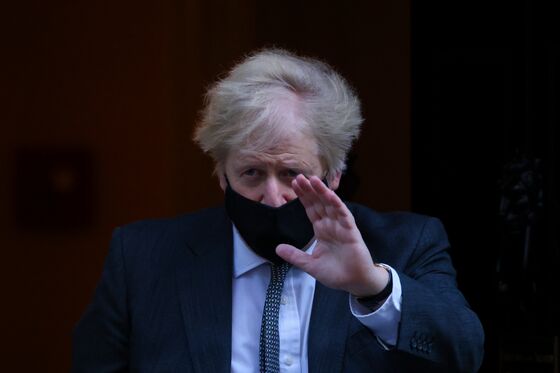 U.K. Prime Minister Boris Johnson confirmed his government had met its target of immunizing everyone over the age of 70, along with people who live or work in nurse homes, health service workers and those who are most vulnerable to Covid-19.
Johnson is due to announce his "road map" to unlock the country gradually over the months ahead on Feb. 22.
Earlier Sunday, British Foreign Minister Dominic Raab signaled that schools in England will be allowed to reopen from early next month.
The U.K. reported another 10,972 cases on Sunday, the fewest since Oct. 2. Daily infections have been below 20,000 for 10 days in a row after peaking over 68,000 in early January. Fatalities are also the lowest this year, though reporting often lags on weekends. Another 258 people died within 28 days of a positive test.
N.Y. Hospitalizations Continue to Drop (11:50 a.m. NY)
New York state hospitalizations fell by more than 1,000 to 6,593 over the last week, Governor Andrew Cuomo said in a statement. That compares with more than 9,000 almost a month ago at the peak of the state's post-holiday virus surge.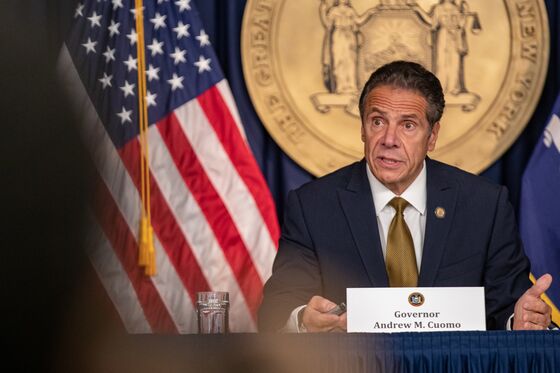 Cuomo reported 8,316 new cases, a daily decline in line with the lower pace of infection that has prompted him to ease some restrictions, including allowing limited indoor dining in New York City. The positive test rate was steady at 3.54%. Another 107 people died of Covid-19.
Sanofi Says Both Shots Could Be Ready This Year (10:47 a.m. NY)
Sanofi's two Covid-19 vaccines are entering new phases of trials in coming weeks and both could be available by the end of the year, said Thomas Triomphe, head of Sanofi Pasteur.
Sanofi's more advanced vaccine candidate, being jointly developed with GlaxoSmithKline Plc, will enter another Phase II trial later this month, and there have been no problems with getting the right formulations, Triomphe said in a phone interview. His comments came in response to an earlier report in French weekly Journal du Dimanche, questioning whether they would be ready.
Don't Let Down Guard on Virus, CDC Head Warns (9:50 a.m. NY)
Americans should not get complacent about rapidly falling coronavirus cases as a potentially more lethal variant spreads in the U.S., according to Rochelle Walensky, head of the Centers for Disease Control and Prevention.
The U.S. has seen more than 1,000 cases of the strain first identified in the U.K., with infections across at least 39 states, Walensky said on NBC's "Meet the Press," one of three scheduled interviews on Sunday. It is around 40% to 50% more transmissible and early data "have suggested there might in fact be increased morbidity and mortality."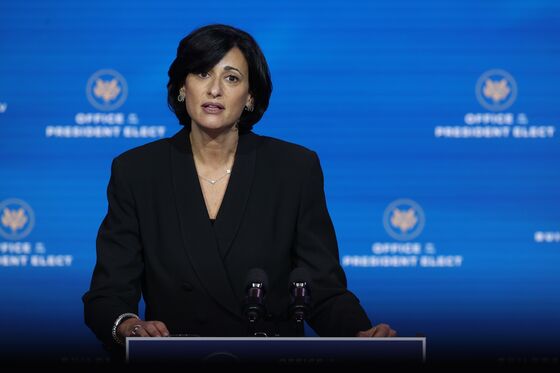 Even with more than 52 million vaccines administered in the U.S., the country continues to see close to 100,000 cases per day -- although infections, hospitalizations and deaths have declined steadily from January peaks.
U.S. Infection Rate Lowest Since October (8 a.m. NY)
New U.S. cases of Covid-19 declined to about 84,000 on Saturday, compared with an average 97,240 for the seven days ended Friday — the country's lowest week-to-week average since late October, according to data compiled by Johns Hopkins University and Bloomberg.
While testing has declined slightly nationwide, the positive-test rate has fallen from more than 13% early this year to less than 6%, according to JHU data.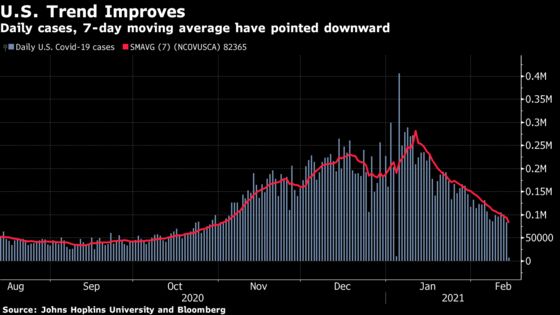 Even so, the U.S. added 3,433 deaths on Saturday, compared with an average 3,058 over the preceding seven days. The latest death toll is likely to have been inflated by revised numbers in Ohio following an earlier undercount.