U.K. Optimism Grows That Shots End Link Between Cases and Deaths
(Bloomberg) -- British scientists and government officials are growing more confident that lockdown measures can be eased further, with Covid-19 vaccinations limiting hospitalizations and deaths even as the delta variant drives up case numbers.
Before vaccination campaigns took off in the U.K., U.S. and Europe, a spike in cases usually translated into a surge in hospitalizations and deaths. Now that link appears to be diminishing, and Britain provides a compelling test case.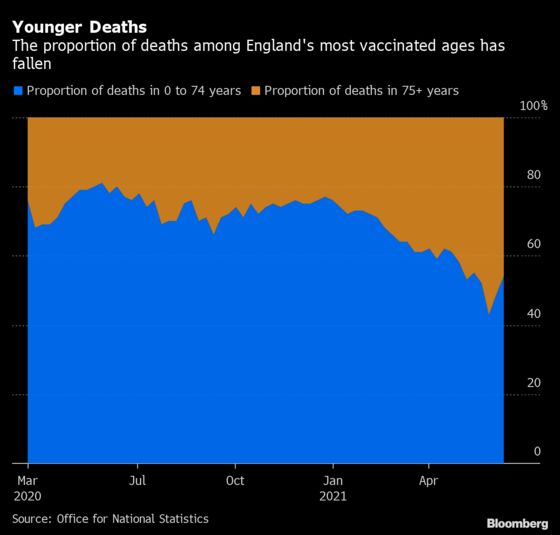 About 47% of the U.K. population is fully vaccinated, according to Bloomberg's Vaccine Tracker. Yet the delta variant, a more transmissible strain first identified in India, almost doubled in the previous week, Public Health England said Friday. Hospitalizations and deaths have also been on the rise, though mostly among younger age groups that haven't been fully vaccinated. Furthermore, the proportion of infections that lead to hospitalizations has been on the decline.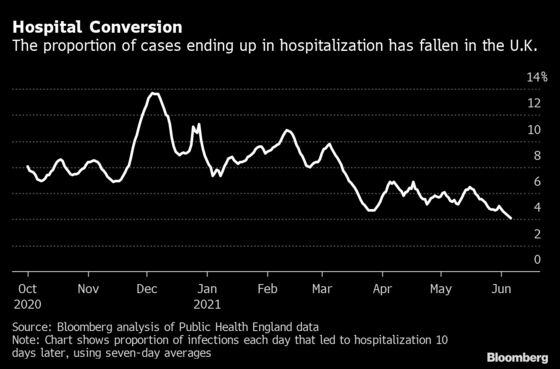 Prime Minister Boris Johnson has postponed the end of lockdown measures to allow more adults to receive a second vaccine dose, which data show significantly increases protection against the new strain. Even if the virus continues to spread, the true test of the immunization campaign will be whether hospitalizations and deaths stay low.
​If that proves to be the case, Covid would then begin to look less like an unmanageable pandemic, and more like a seasonal disease such as influenza. For policy makers, that's the goal.