U.K. Online Job Advertisements Rise Above Pre-Pandemic Levels
(Bloomberg) -- Online job advertisements in the U.K. climbed above their pre-pandemic level last week for the first time in more than a year as companies prepared for the easing of lockdown restrictions.
The amount of posts climbed to 103% of the February 2020 average, up 4 percentage points on the previous week and above 100% for the first time since early March 2020.
The data from the agency Adzuna was published by the Office for National Statistics on Thursday and provide further evidence that the economy is recovering strongly from its worst slump in three centuries last year. Non-essential stores reopened on April 12, and Prime Minister Boris Johnson hopes to remove all remaining lockdown curbs on June 21, providing England can avoid a fresh wave of Covid-19 infections.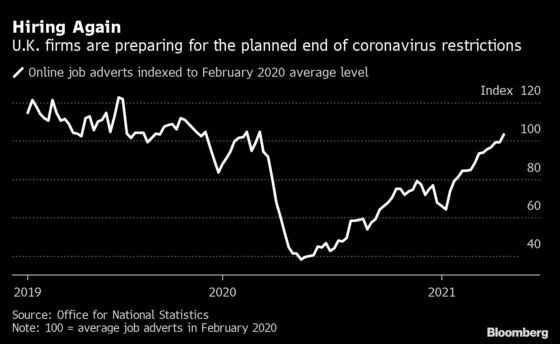 The volume of online job adverts rose in 23 out of 28 categories, with domestic help and construction and trades posting the largest gains. Both can be partially attributed to an increase in adverts from a single company, the ONS said.
There was also increased demand for workers in catering and hospitality, a sector that is starting to reopen after being battered by the forced closure of public venues over the past year. Retail also improved, while demand for staff in health and social care declined.
The largest week-on-week increase was recorded in the North East. Postings in London are still only at 89% of pre-crisis levels, the lowest proportion of any region.
The ONS data also revealed that debit and credit card spending on delayable goods such as clothing and furniture remained well above February 2020 levels in the latest week. Total spending was just below 100%, the figures based on Bank of England CHAPS processing data show.