U.K. Mortgage Approvals Show Property Demand Holding Up
(Bloomberg) -- Supply Lines is a daily newsletter that tracks trade and supply chains disrupted by the pandemic. Sign up here.
U.K. mortgage approvals fell for a second month in July but remained well above pre-pandemic levels, suggesting demand for property is holding up despite the tapering of a tax break on purchases.
 
Banks and building societies authorized 75,152 home loans, the least in a year and down from 80,272 in June, the Bank of England said Tuesday. 

Britons buying a home for more than 250,000 pounds ($345,000) in July faced a higher tax bill after the stamp-duty holiday introduced by Chancellor Rishi Sunak last summer began to be curtailed ahead of the tax cut ending altogether next month. A race to complete purchases before June 30 sent mortgage lending, house prices and property transactions to record levels.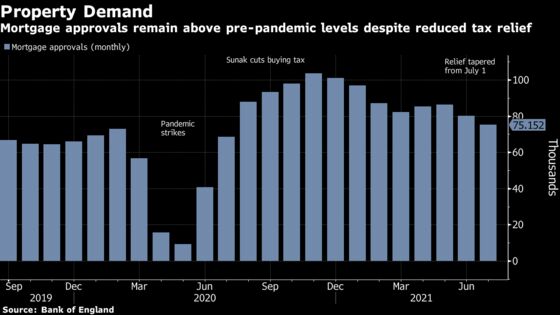 However, approvals in July were still above levels of around 67,000 averaged in the six months before the pandemic struck in March last year. That suggests demand is being sustained by factors such as cheap borrowing costs, the buildup of savings during lockdowns and a pandemic-driven preference for larger homes away from populated urban centers.
Tuesday's BOE data also show:
Consumers repaid 42 million pounds of unsecured debt on balance in July
There was a 1.4 billion-pound repayment of mortgage debt, reflecting transactions being brought forward into the first half of 2021. Borrowing hit a record 17.7 billion pounds in June
Households deposited an extra 7.1 billion pounds with lenders, down from an average of 12.8 billion pounds in the previous six months. The decline reflects the reopening of the economy and increased opportunities to spend