U.K. Mortgage Approvals Unexpectedly Rise to Nine-Month High
(Bloomberg) -- The number of mortgages approved by U.K. lenders unexpectedly rose to the highest since January last month, the Bank of England said Thursday. But unsecured lending rose by less than 1 billion pounds for a second month running.
Net purchases of U.K. government bonds by foreign investors were the highest in three years at 17.1 billion pounds ($22 billion).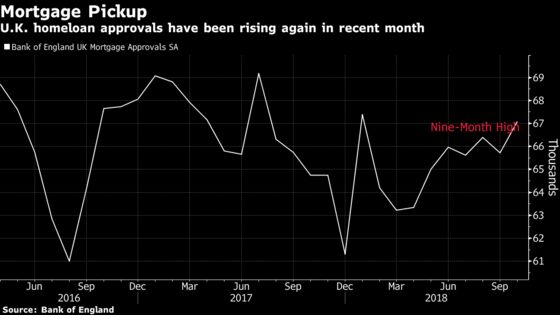 Approvals rise to 67,086 from 65,726 but analysts are likely to treat the figures with caution. Surveys show a housing market under pressure amid Brexit fears, affordability constraints and the prospect of higher interest rates
Actual mortgage advances rose by 4.1 billion pounds in October
Annual consumer-credit growth slows to 7.5 percent, the least since May 2015. The pace has slowed from rates of over 10 percent last year, which will ease the concerns of financial-stability officials. Net lending of 894 million pounds last month was evenly split between credit card and other unsecured loans
BOE's third-quarter Credit Conditions Survey published last month found lenders are making it harder for people to borrow
Non-resident net purchases of gilts the highest since October 2015, when the figure was 18.2 billion pounds; lending to non-financial business rises 1.6 billion pounds