U.K. Money Markets Are No Longer Wagering Bets on BOE Rate Cuts
(Bloomberg) -- Money markets are no longer betting on a Bank of England interest-rate cut, as a surge in bond yields worldwide sharpens investors' focus on a global economic recovery.
Traders now see no policy rate changes for the next year. That's a sharp turnaround from September, when traders were contemplating rates as low as minus 0.1% for this year, after the Bank of England said it was studying the feasibility of such a move.
The trigger for the u-turn came from this month's BOE meeting, where policy makers stressed that negative rates are not imminent, even as the highly-anticipated study encouraged banks to prepare for such a scenario. Traders further scaled back expectations amid central bank's optimism over a powerful economic rebound due to the U.K.'s vaccination efforts, and as yields on Treasuries to German bunds and gilts climbed to pre-pandemic levels.
"Markets are able to price easily some tightening in this sort of market environment," said Bob Stoutjesdijk, a Rotterdam-based fund manager at Robeco Institutional Asset Management. "It's currently a little like a fire hose out of control, so probabilities and expectations for BOE hikes can go up."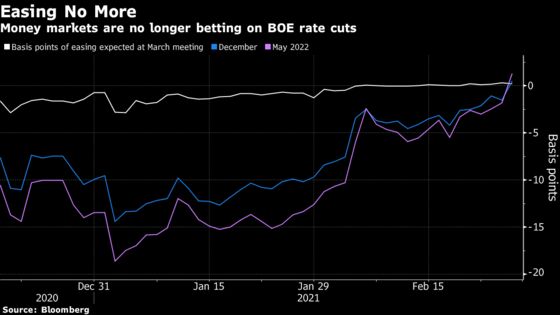 Money markets see interest rates holding steady through to the end of the year, with bets on hikes beginning at the start of 2022. Bolstering these bets is the U.K.'s progress toward reopening its economy, having administered more than 18 million shots, according to Bloomberg's vaccine tracker.
"The direction of travel has clearly changed, given the velocity of vaccination and the repricing in the bond market is fast and furious," said Tanvir Sandhu, chief global derivatives strategist at Bloomberg Intelligence.
The BOE last eased interest rates in March 2020. It slashed the bank rate by 65 basis points to a record low of 0.1% in an out-of-meeting response to the coronavirus pandemic.
"We continue to doubt that the committee will press ahead with sub-zero rates, even if the outlook darkens," wrote Antoine Bouvet, senior rates strategist at ING Groep NV. "Quantitative easing still appears to be the tool of choice for offering further stimulus."