U.K. Manufacturing Outlook Slumps to Worst Since Brexit Vote
(Bloomberg) -- U.K. manufacturers are more pessimistic than at any time since the Brexit referendum, according to the Confederation of British Industry.
The lobby group's index of confidence slumped to minus 23 this month, the weakest level since the aftermath of the 2016 vote to leave the European Union, a survey published Wednesday showed. Export prospects hit their lowest since the financial crisis and firms plan to spend less on investment than they did in 2018.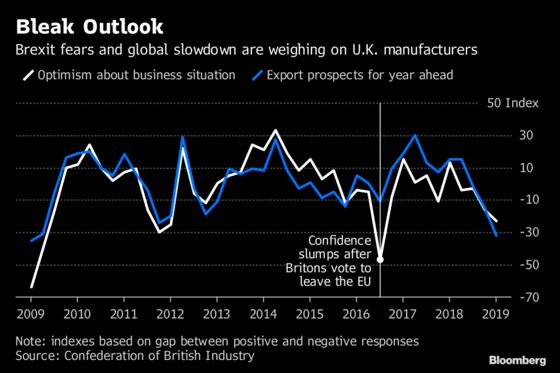 The bleak outlook comes amid heightened fears that Britain is heading out of the EU without a deal and days after the International Monetary Fund downgraded its global outlook. Demand is softening in Europe, the biggest market for U.K. exports, and the giant Chinese economy grew at its slowest pace since 2009 last quarter.
"Notably, the number of firms citing political/economic conditions abroad as a factor likely to limit export orders in the next three months was at its highest since July 2016," the CBI said.
Pessimism was most acute in the building-materials sector and textiles and clothing, according to the survey, which was based on responses from 326 firms questioned between Dec. 17 and Jan. 11.
Factory output rose at an above-average pace in the past three months but order books were flat and manufacturers cut employment for the first time in more than two years. There were nonetheless some signs of inflationary pressure as firms face limited spare capacity and squeezed profit margins.