U.K. Landlords Hike Rent by Most Since 2008 in Pandemic Reversal
Private landlords in the U.K. hiked rents by the most in 13 years as life returns to normal for most people across the country.
Average U.K. monthly rents rose 4.6% to 968 pounds ($1,303) for the year through September, according to the Zoopla Rental Index. The greatest surge in rents was in the south west of the country where they climbed 9% to an average 860 pounds. By contrast, London landlords increased prices by 1.6% to 1,592 pounds. 
The end to a series of government-mandated lockdowns has encouraged many would-be renters to look for accommodation. That increase in demand is falling into a supply gap left by the departure of many buy-to-let investors who have been discouraged from the market by government measures.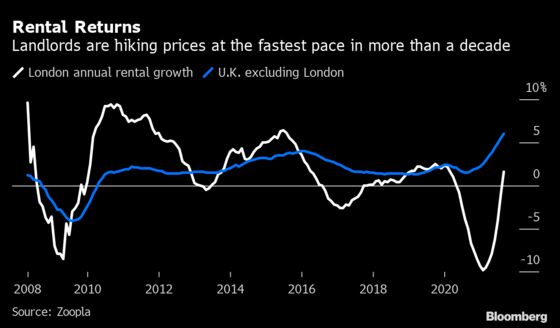 "Households looking for the flexibility of rental accommodation, especially students and city workers, are back in the market after consecutive lockdowns affected demand levels in major cities," Gráinne Gilmore, head of research for Zoopla, said in a press release accompanying the report. 
A number of tax changes since 2016 have pushed buy-to-let investors to leave the market, squeezing the supply of homes to rent, according to Zoopla. Although the amount of investment in purpose-built rental homes is growing, "it is still a very small part of the market, and will not begin to plug the gap left by landlords for years yet," the report said.