U.K. Inflation Posts Surprise Pickup on Clothing, Games
(Bloomberg) -- U.K. inflation unexpectedly accelerated in June, pushed higher by the cost of clothing and games.
Consumer prices increased 0.6% from a year earlier, the Office for National Statistics said Wednesday. Economists expected inflation to slow to 0.4%. The core rate, which excludes volatile energy and food prices, picked up to 1.4%.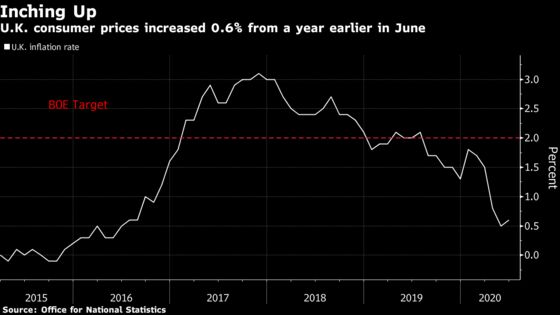 Inflation nonetheless remains well below the Bank of England's 2% target, and economists see only a gradual acceleration from current levels as the coronavirus crisis reduces demand for goods and services.
The central bank, which has already slashed rates to 0.1% and restarted bond buying to fight the crisis, has said the economy may be heading for the worst downturn in three centuries, while data Tuesday showed that the rebound in May was smaller than expected. A temporary reduction in value added tax for the beleagured hospitality and tourism sectors came into effect today, part of a 30 billion-pound ($38 billion) stimulus package announced by Chancellor of the Exchequer Rishi Sunak last week.
Clothing and footwear prices fell 0.1% in June, a fraction of the decline posted a year earlier. ONS Deputy National Statistician for Economic Statistics Jonathan Athow said seasonal patterns are being disrupted because of the pandemic, with the normal declines due to the start of the summer sales failing to materialize this year.
Prices of computer games and consoles rose last month, possibly reflecting lockdown-driven demand for entertainment amid reports of shortages of some goods. Food prices, particularly those for vegetables, declined.
The ONS said it could only collect data for about 84% of the pre-crisis basket of goods and services as some shops remained closed.
An experimental series designed to show the impact of changes in spending patterns caused by the crisis shows inflation to be 0.1 percentage point lower than the official rate, when unavailable items are removed from the basket of goods and services normally sampled each month, the ONS said. The difference is due to transport services.
Separately, the ONS said raw material prices rose for a second month, driven by the biggest monthly increase in the cost of crude oil on record.