U.K. Inflation-Linked Bonds Fall as Lawmakers Moot Switch to CPI
(Bloomberg) -- U.K. inflation-linked bonds slumped, driving yields to the highest since November, after a group of lawmakers recommended that the government should change the price index it uses to benchmark the securities.
The Lords' Economic Affairs Committee suggested an interim switch to the Consumer Prices Index from the currently used retail prices model for index-linked gilts, according to a report from the group on Thursday. While such a move has been touted before, the Treasury said in 2013 that it would continue to issue gilts based on the RPI.
U.K. consumer price inflation for December matched economists' median estimate of 2.1 percent while the RPI-based measure missed forecasts to come in at 2.7 percent, data showed Wednesday.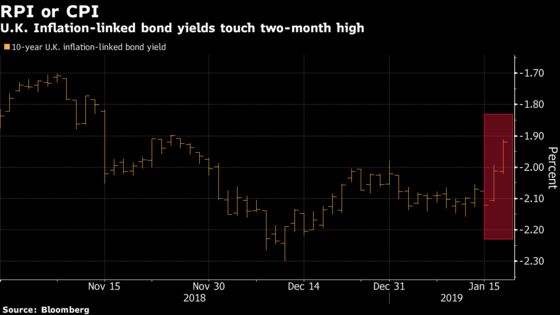 "A switch toward a single inflation measure would require a huge effort," says Jorge Garayo, a rates strategist at Societe Generale SA, adding that the RPI "overstates inflation by some 30 to 90 basis points, according to a broad range of estimates."
The yield on 10-year U.K. inflation-linked bonds climbed nine basis points to minus 1.92 percent as of 10:30 a.m. in London on Thursday, adding to an 11 basis point jump on Wednesday.
While the recommendation from the lawmakers' group isn't binding, the government has to respond within two months. Also, the suggestion will be debated in the House of Lords.