U.K. House Prices Rise at Slowest Pace in 5 Years, Halifax Says
(Bloomberg) -- U.K. house prices are increasing at the slowest annual pace in five years, according to mortgage lender Halifax.
Prices gained 1.5 percent in the three months through October, the lowest rate since March 2013, Halifax said Wednesday. On the month, prices gained 0.7 percent, just below the 0.8 percent expected by economists.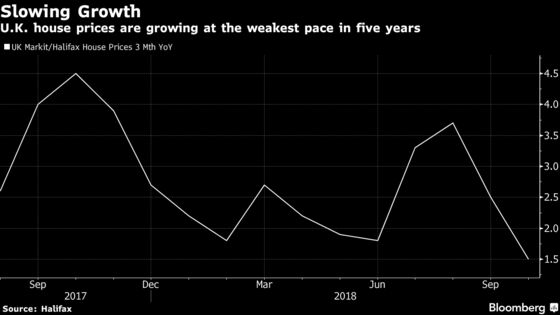 The report follows similar data from Nationwide last week that showed annual house-price growth dropped below 2 percent for the first time in five years. The market is struggling, particularly in London, after decades of booming values left affordability stretched, and as Brexit adds uncertainty about the economic outlook.
The average U.K. home price is now 227,869 pounds ($300,000), Halifax said.